ELEVEN SONGS I LiKED THIS WEEK IN LIST FORM: OCT. 18-25
Another week, another sickly group of songs I liked that I intend to list, ever so elegantly, in this post. Not much to say, really, aside from maybe plugging the great great great Cult of Luna interview that I published the other day as part of my Albums of the Decade project. And, oh yeah, to encourage y'll to follow this dilapidated grindcore squat of a blog on Facebook, Instagram, Spotify, Bandcamp, and Patreon (MONEY!). Other than that, here's some good music.
1. Azar Swan – "The Vengeful Sun" from The Hissing of a Paper Crane (Primal Architecture Records). Zohra Atash and Joshua Strawn's noise/electronica project is back with another fascinating outing, and supported by an impressive cast of my favorite musical misfits and geniuses. Whether it's Locrian/The Holy Circle's Terrence Hannum, Anatomy of Habit's Mark Solotroff, or Pyrrhon/Weeping Sores' Doug Moore, anywhere you look there's some kind of genius doing something, on top of the already striking music fashioned by Atash and Strawn. In this track, the album's closer, Moore and Pretty Bleak's Justin Vial, push things to the actual brink. I don't know if this actually counts as a song, more like a terrifying performance piece, but whatever it is, it's, well, terrifying and arrestingly beautiful. If that's possible. Cover Art: Alexandra Desipris.
2. Fukpig – "The Great British Wankoff" from More Bastards (Independent). The grindcore/crust/hardcore/projectile-vomiting U.K. project is back, and boy are they pissed. Fukpig, also known as Anaal Nathrakh's angrier cousins (share live members and formerly the soul-crushing work of Mick Kenney, who recorded this album) are like some demented and very rusty truck careening into your face at 89 kilometers an hour. And BOY is it exhilarating and filthy.
3. Abduction – "Infinite Ancient Hexes" from All Pain is Penance (Analog Ragnarok/Inferna Profundus Records). Abduction's music just hits it for me, can't really say why. The English one-man black metal project seems to, almost every time, hit that sweet spot between raw, melodic, estranged, tortured, direct, and reflexive that is so difficult to nail. Just reeks of desperation and melancholy and aggression, with everything so well executed and recorded, just a marvelous thing. And this new album is no exception. Enough melodrama to keep you cheesy, enough violence to kill the melodrama. Just magnificent black metal.
4. Profetus – "The Sadness of Time Passing" from The Sadness of Time Passing (Avantgarde Music). I think most people would consider me to be a pretty upbeat person, but I think most of the time I would describe my own emotional experience as something like melancholy. Not in the sense of being sad, or not only in that sense, but in the sense of always feeling like I'm missing something, even if it's the very moment I'm living as I'm missing it. Being a father, I think, accelerates that process, always loving and enjoying your children and always already missing them as kids, imagining them as adults. I guess this explains my great attachment to funeral doom, one that started around the birth of my eldest daughter (specifically Loss's Despond, the subject of this interview). And Profetus, one this track and in this album, just drive that wooden stake through my warm-ish heart just right. So much feeling, so much movement in these wonderful songs, and, I think, especially in this stunning title track. What a joy. Cover Art: Yuka Yoshihara.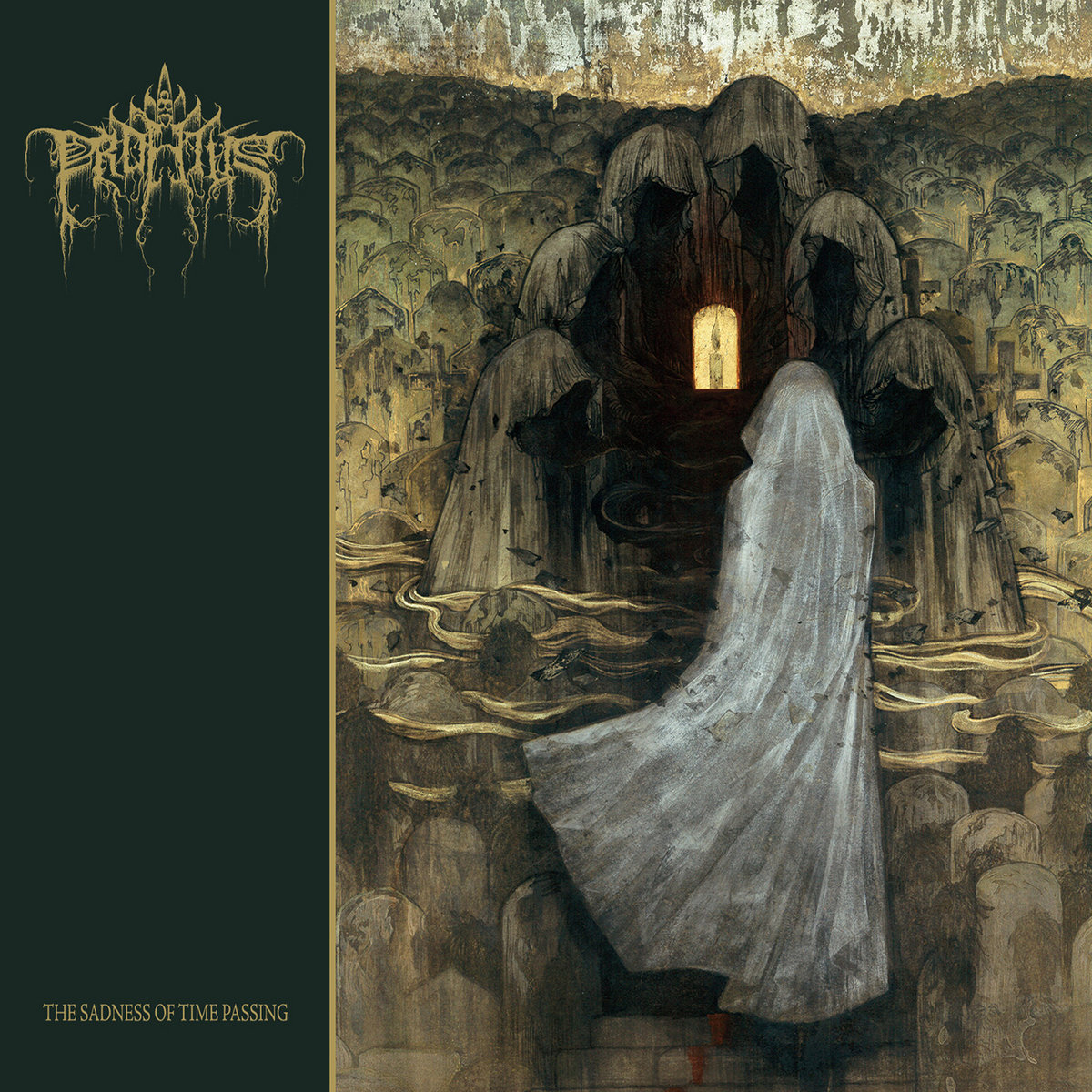 5. Afmá – "Vast" from Afmá (Demo). Is there a single greatest joy than digging the crates, so to speak, in Bandcamp land, and unearthing a jewel as beautiful as this demo by Swedish solo death project Afmá. I call it death metal eventhough it is, for the moment a strictly instrumental affair with a vocalits (maybe?) being something that may happen later. But this music is it – airy, dramatic, riff and melody driven music that's just waiting to take over everything. I'd put it style-wise somewhere between Bolzer and Ceremony of Silence, but it's just arresting. Someone do something with this, please.
6. Hackpeter – "Infibulation of Emmanuelle" from Hackpeter (Independent). I really don't know what's going on here. It's death metal that tripped into a grindcore acid pool (like that one in Robocop – how badass was that?), and decapitated on a razor blade. A Northampton, PA trio hell bent on recording riffs badly and instead recording them brilliantly. A bleeding corpse of ugly music made magnificently beautiful. And it's a debut! Oh boy.
7. Vultur – "Groans of Excruciating Torture" from Drowned in Gangrenous Blood (Memento Mori). I mean, pretty much a shitload of riffs drilled into your head in the foulest manner. That's the general idea. Brutal, heavy, just enough melody to make it more effective, and well made. Death metal? yup. Interesting to note that these dudes have a sister band in Ectoplasma that will be releasing an album on the same label and on the same day. Efficient.
8. Batshitcrazies – "Never Felt Like This Before" from 😦 (Independent). An Israeli post-punk/synth/post-hardcore duo that brings to mind the clashing of L7, Yeah Yeah Yeahs, and B52s, if any of that makes sense. Sharp, witty, extremely musical while never really taking itself that seriously while taking itself VERY seriously. These songs seem simple but they are not, and this specific track is a great example. So many conflicting lines and ideas that in lesser hands would have imploded into nothing and here rise into shimmering, edgy beauty. Great music, great attitude, just great.
9. Gentry Lord, "Secrets Behind the Veil" from Signals from the Mystiverse (Stormspell Records). What. The. Actual. Fuck. Look, I have no idea how I ended up in this Bandcamp page, none. I have no recollection of seeing it, and I have a feeling this link was dropped into my recommendation folder by a supreme evil being. Having said all that: this is the trippiest, wackiest, most brilliant shit I have encountered in a while. It's insane in the way an alien Diamond King with an affinity to space-prog and bass slapping would be insane. If you have a headache, don't listen to this. If you're into listening to some of the most innovative, crushing, and just out there music on planet earth – press play. Do it.
10. Chants de Rats – "Juste" from I (Demo). This is music that makes me happy, everything about it. The quirky post-hardcore, very much in the vein of mid 90s Dischord, the sudden bursts of quasi-grindcore, the wonderful mixing and production that just highlight the performances and the wonderful tone of all the instruments. Like some lost Fugazi songs mixed with manic aggression. Love this so much. And it's a demo. They're young, they're from Vienna, Austria, and they're going to be amazing. They already are.
11. Gride – "Hluboká temná modř" from Hluboká temná modř (Independent). I guess I thought the sensible thing to do was to end this list (before the subsequent marginalia) with fuck mild mindfuckery. The Czech group Gride has been unleashing grindcore onto the unassuming universe for over 20 years, with this last EP another wall of distorted sound and shrieking that I find so strangely comforting and unnerving. Great bunch of contorted music.
FIVE MORE THINGS TO KNOW
ONE – New Vastum is out, and it is, to quote Shakespeare, motherfucking glorious. Possible death metal AOTY.
TWO – Shin Guard, the young and amazing screamo/hardcore outfit, is teasing new material, seemingly on Monday. Oh yeah.
THREE – There is not choice but to listen to the new Alcest. The new Alcest will dominate your mind. Resistance is futile.
FOUR – My kids are amazing.
FIVE – King Gizzard and the Lizard Wizard doing some of their latest thrashy/metal-y album on KEXP.
ONE LAST THING, PROMISE: Bindrune just uploaded Panopticon's acoustic/country set played at Antwerp last month on Youtube. So, there. And while you're at it, check out some other interesting sets (here, here, and here).