SONGS I LIKED THIS WEEK IN LIST FORM: NOV. 15-22
Another week, another overwhelming deluge of melancholic emotion having to do with a coming to terms with my own mortality, another batch of songs I liked. It was a good week. I took a break form the Albums of the Decade interview thing since I was quietly going insane and also because pretty much all of the interviews left in the series are huge, mind-crushing, wrenching mammoth conversations with some of my all-time favorite artists, and that takes time. Next week's installment is a personal high for me. But I guess we'll all have to just wait and see, aye!? This week also saw the publication of my short interview with Brazilian black metal phenom/genius Kaatayra, who released his second album this year just a few days ago (more on that down the rabbit-hole list below). As always, follow us on Facebook for more recommendations, our weekly release recap, and just an overall positive vibe, on Instagram for racy photographs of me crying to Sad Wings of Destiny, on Spotify for a lot of playlists that make you reflexive and quietly incensed, and on Patreon if you wanna piece of this lovely action going on here (bonus playlists, early access to stuff, getting our amazing compilation album, discounted merch, and so on). To the list we go!
1 Ühtceare – "Ultradedalismo , El Asedio Perpetuo de Espejos (Parte I)," from El Genocidio Primordial Llevará El Nombre Infinito De La Empatía (Death Kvlt Productions). The debut full length from Argentinian one-man dissonant/atmospheric black metal project Ühtceare that was released earlier this year (CD out now via Flowing Downward), arriving about two years after coming into being with a flurry of demoes in 2017. A fascinating combination of an ambient, post-black spaciness and the griminess and sheer aggression of raw, uncompromising, dissonant black metal. I love everything about this project, from the thought put into the design and artwork to the ideas and the way they play out as the songs unfurl. An elaborate way of saying shit's fire and I need a longsleeve with that desperate dude repeated on each sleeve.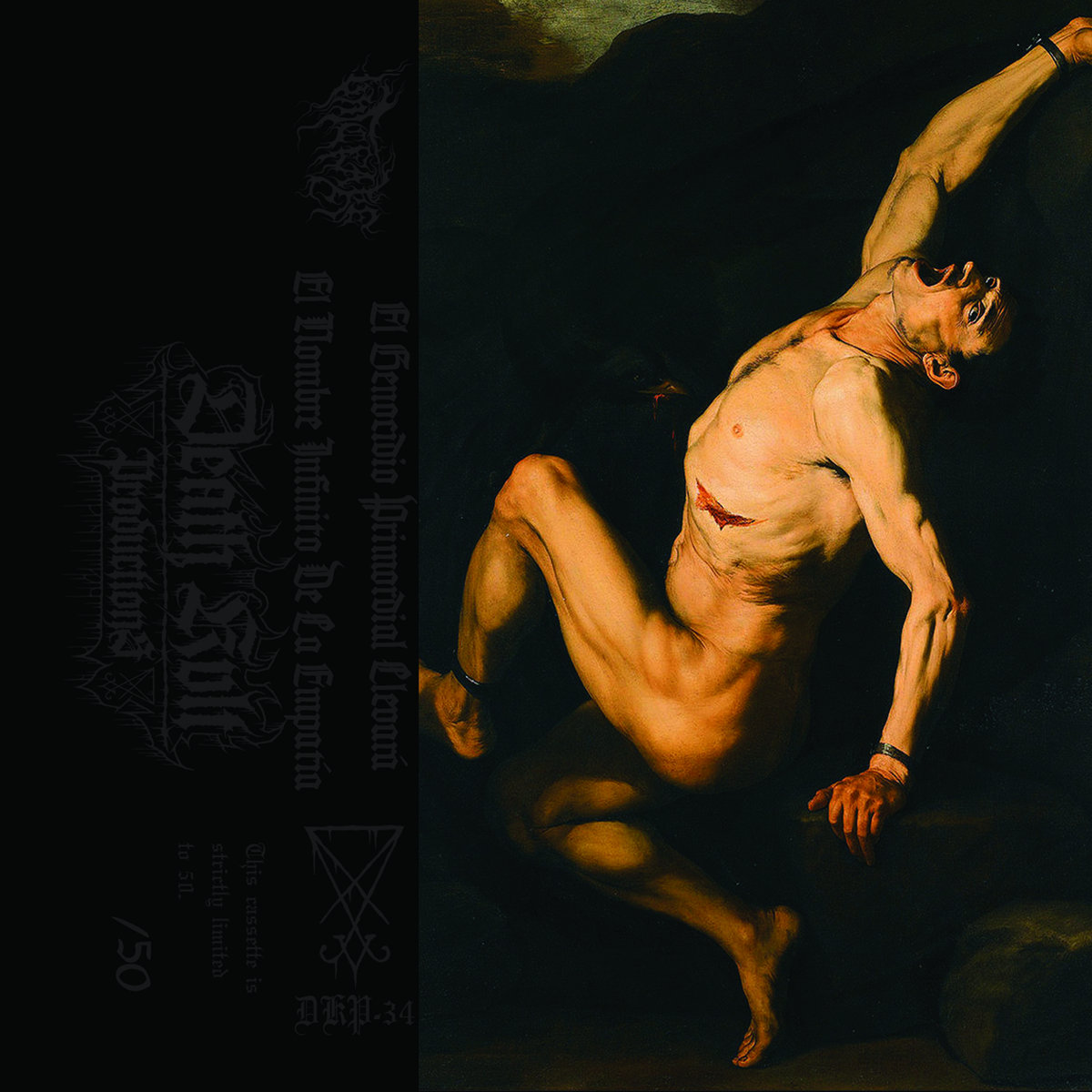 2. Skullcrush – "Monumental Tomb," from Archaic Towers of Annihilation (Redefining Darkness Records). Ugh. I mean, just ugh. It seems completely random to bring in the new Blood Incantation album here, but I will for that particular reason. I love Blood Incantation and I love that new album (reminder: here's my interview with them here). But if you listen to Hidden History, put the headphones down, and just gaze into space for a while not really realizing what the hell just magically happened. And let's say you need something that, once those headphones are back on, will pin you down back to earth like the filthy bug you really are – this is the song that will do that for you. A infectious, groovy, fucking toppling tower of a song, bolstered by immense riffs, one amazing breakdown, the best death-metal production I can think of, tons of character and just, to return to my opening statement: UGH!. Can't wait until the rest of this comes out (December 13).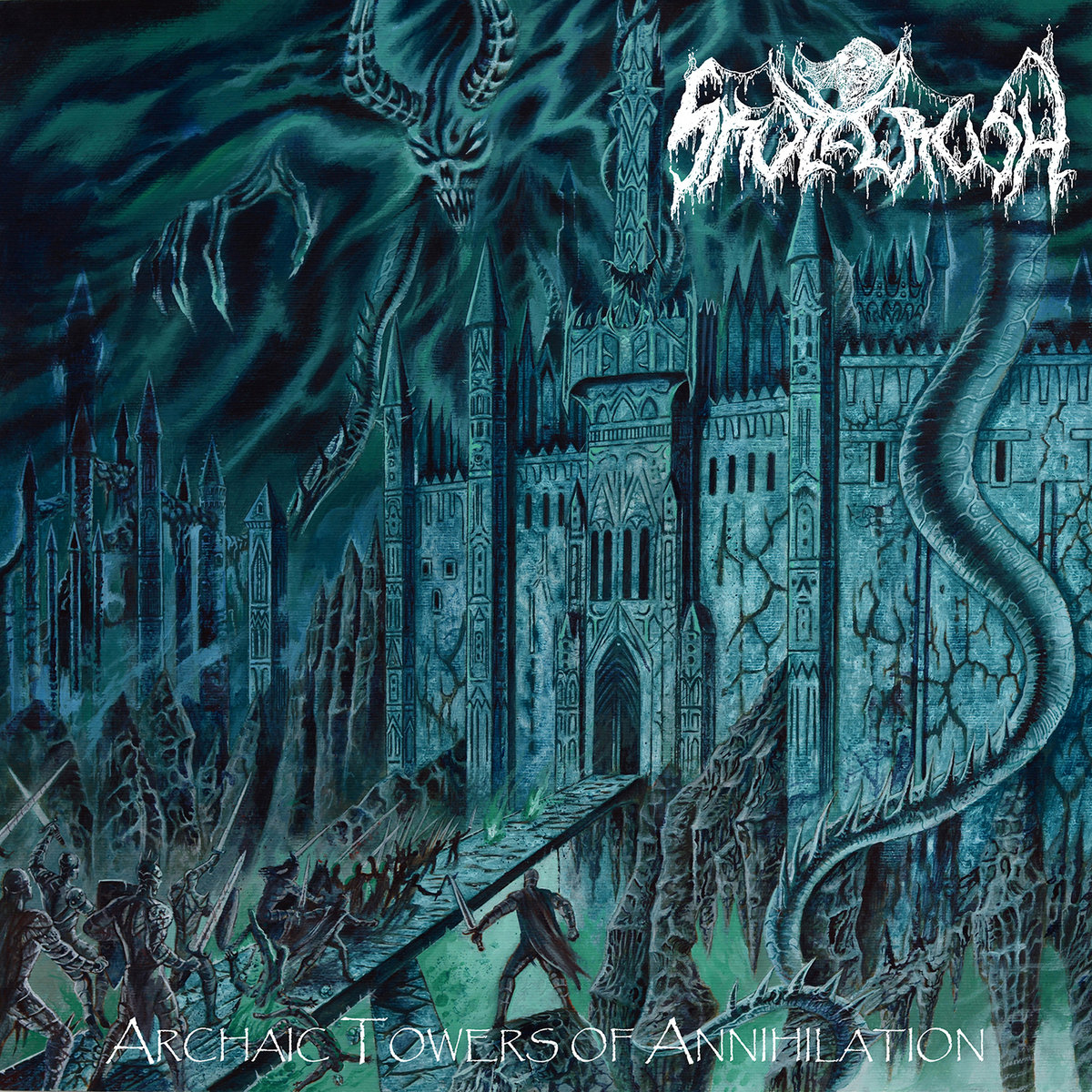 3. SRSQ – "Temporal Love," from Temporal Love / Unkept (Dais Records). My first exposure to the wonderfully noir synth project SRSQ (Kennedy Ashlyn of Them Are Us Too) was a complete coincidence. During a somewhat lengthy stay at the Bay Area with my family in 2017 I was fortunate enough to catch True Widow, one of my absolute favorite bands, live in San Jose. SRSQ was opening that night, and I was really expecting absolutely nothing. I was so enchanted by her music, her style, her stage presence that I swore I'd come back home and write a thing about her, despite the fact that this was in fact before she had released any music. I was not good at my own word (to myself) and here I am rectifying that mistake with the aid of a wonderful new 7″, freshly released through Dais, of Drab Majesty fame. And I suppose Drab Majesty is a good general reference point if you want to prepare you brain for SRSQ. But Kennedy's music is, for a lack of a better word, more dangerous than her LA brethren. The kind of music that would be playing in seedy Blade Runner bar, by a singer with a lone spotlight shining on her keyboard. I have no idea what I just said, just listen to it. On repeat. All day. By the way, fun tidbit: The EP was co-mixed by the incomparable Jorge Elbrecht, who, if you haven't, need to listen to. NOW.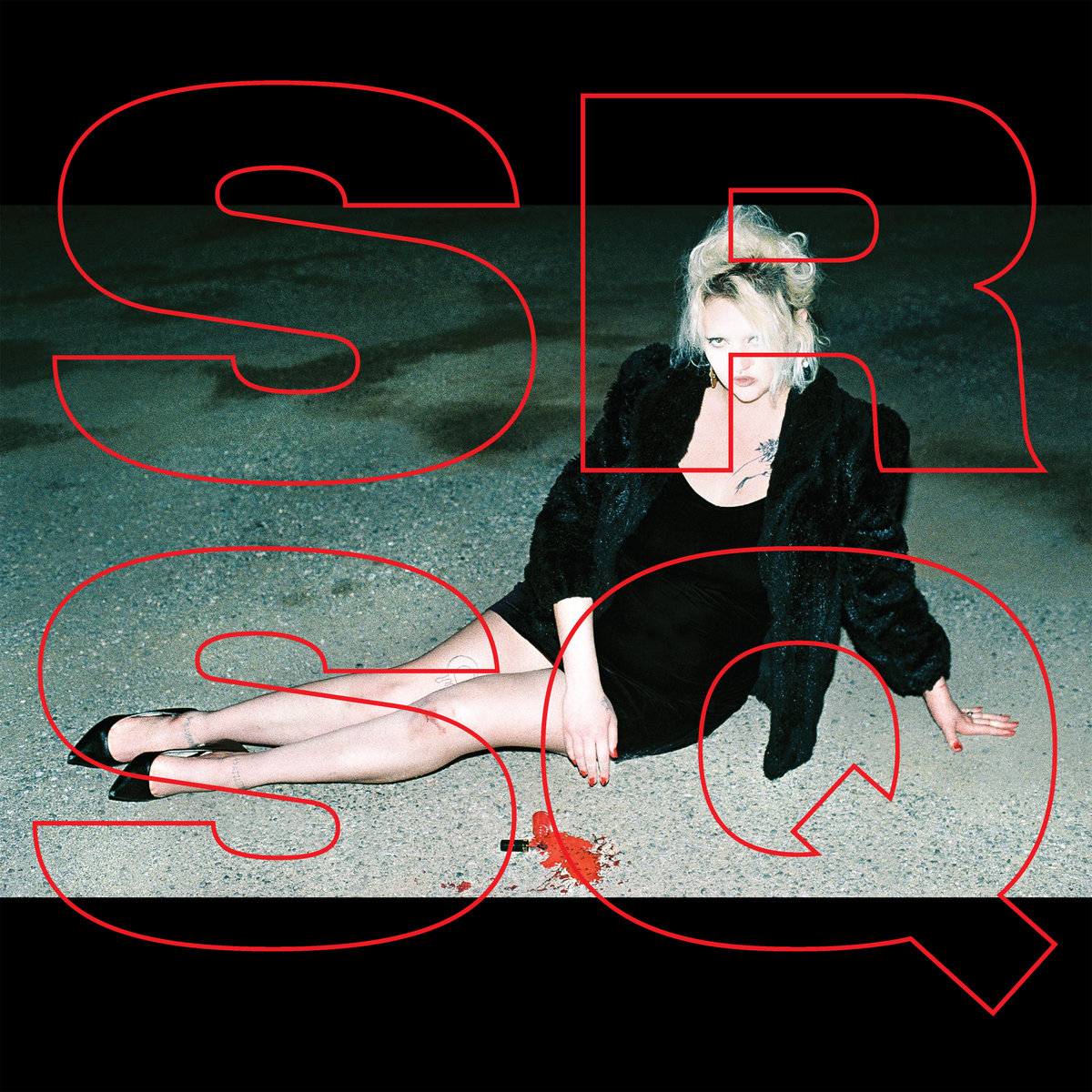 4. Kaatayra – "Chama, Pólvora e Esperança," from Nascido Sob o Signo Incivilizatório (Independent). I don't know if this is an official designation, but I am the biggest Kaatayra fan in the world. And, frankly, if you're not going for that role I don't want to be friends with you. A mesmerizing, groundbreaking one-man black metal project out of Brasilia, Brzail that put out one of the best black metal projects of the decade (yup, let's argue) earlier this year with No Ruidar da Mata que Mirra, a heady mix of emotion, blastbeats, folk music, EDM, prog, whatever. It was, and remains, an almost perfect album, and one that was the impetus of my recent interview with the musical prodigy behind this massive feat, which you can read right here. But, whereas No Ruidar was a mix of colors and emotions, Nascido is, at least more so, an in-your-face explosion of desperate aggression, of the kind one would expect to hear on similar artists such as Panopticon, Agalloch, or even Krallice. Another masterwork by an arist who, I have no doubt, will be  a leading voice in the future, a much more international future, of black metal and heavy music.
5. Rattenfänger – "Les Bons Hommes.," from Geisslerlieder (Van Records/Karisma and Dark Essence Records). A'ight, enough with the feelings, let's crush some human beings. That rhymes awkwardly. Whatever. Rattenfänger, the sickly fruit of such legendary loins as Drudkh, Deliberate Chaos, Precambrian, and Necrom are back with a second single from their long-awaited second album. And yet, they don't wait a second before smashing your soul underfoot with the kinds of riffs that could demolish a small housing project or, say, an Eastern European village. Just good-ole-fashioned explicitly Germanic scary music to suppress anything you wish to suppress in your life. Like, I dunno, tears. Sick.
6. Fawn Limbs – "Atrocities," from Their Holes Aroused by the Splinters Carved From Their Teeth (Sludgelord Records). Fawn Limb's Harm Remissions was and is one of my favorite albums this year, a call back to a simpler time, when tearing your listeners' hearts out with your teeth and and kicking them in the head was the cardinal rule of everything. And so I was pretty happy when the international trio, as busy as they are, went ahead and announced another EP to be released by the end of the year. When I say busy I am obviously referring to the parallel lives of Eeli Helin (vocals, guitars, and also a member of Mireplaner as well as a Sludgelord writer), Samuel Smith (bass, and also a member of Luminous Vault and the might Artificial Brain, and whom I interviewed earlier this year), and drummer/maniac Lee Fisher, of Gorebath and also a very special contributor to the very special album released this year by grind legend Takafumi Matsubara. And this newer chapter is as intense, as emotionally harrowing, and amazing as the former, and another set of frustration fueled projectiles aimed at your face (with the odd atmosphere geared at making your death that much more painful). For whatever it's worth, a lot about Fawn Limbs reminds me of one of my favorite bands, Celeste, and not just the dramatic artwork. Violence at its best.
7. Minenwerfer – "Der Blutharsch," from Alpenpässe (Purity Through Fire/Worship Tapes). I mean, if you're going to open your atmospheric metal epic about the Italian front during the Great War with a 17-minute emotionally rollercoaster of an opus then you might as well get it right, right? Sacramento duo Minenwerfer do just that in their first album in seven long years, a period also taken up by the the two's on-and-off involvement with various other bands, such as a personal favorite in Lycus as well as the formation of a new death metal outfit in Denunciation. Whatever the reason, however, the wait was well deserved, with what sounds like one of the best, most creative, and surprisingly groovy (!!) atmospheric releases all year.
8. Diploid – "Homicidal Art," from Glorify (Art as Catharsis). Didn't really see this one coming, especially since I've never really heard of the Melbourne-based explosive device also known as Diploid. Hardcore, post-hardcore, grindcore, and a general attack-first attitude that is gripping, twisting, and varied from the word "go." And boy of boy does it go. A very satisfying wall of sound, anchored by some steady-yet-erratic drum work and punctured by the desperate scrams of dual vocalists Mariam Benjemaa and Reece Prain. Fantastic. Incidentally, if you like what you're hearing here, then I suggest this little gem from 2018.
9. Cryptic Brood – "Ferocious Torment," from Outcome of Obnoxious Science (Independent). For quirky, off-kilter, cavernous, and any other alliterating hard K sound, look no further from the latest from German death-doomers Cryptic Brood. With two great splits last year (with the legendary Anatomia as well as with the excellent Minenfeld) the threesome dropped some napalm-grade doomy death with this new full length, complete with unexpected Japanese-death-style yelps and mammoth drums. Also interesting to note that band member Steffen Brandes is also the head of a very interesting label by the name of Lycanthropic Chants. Well worth looking into.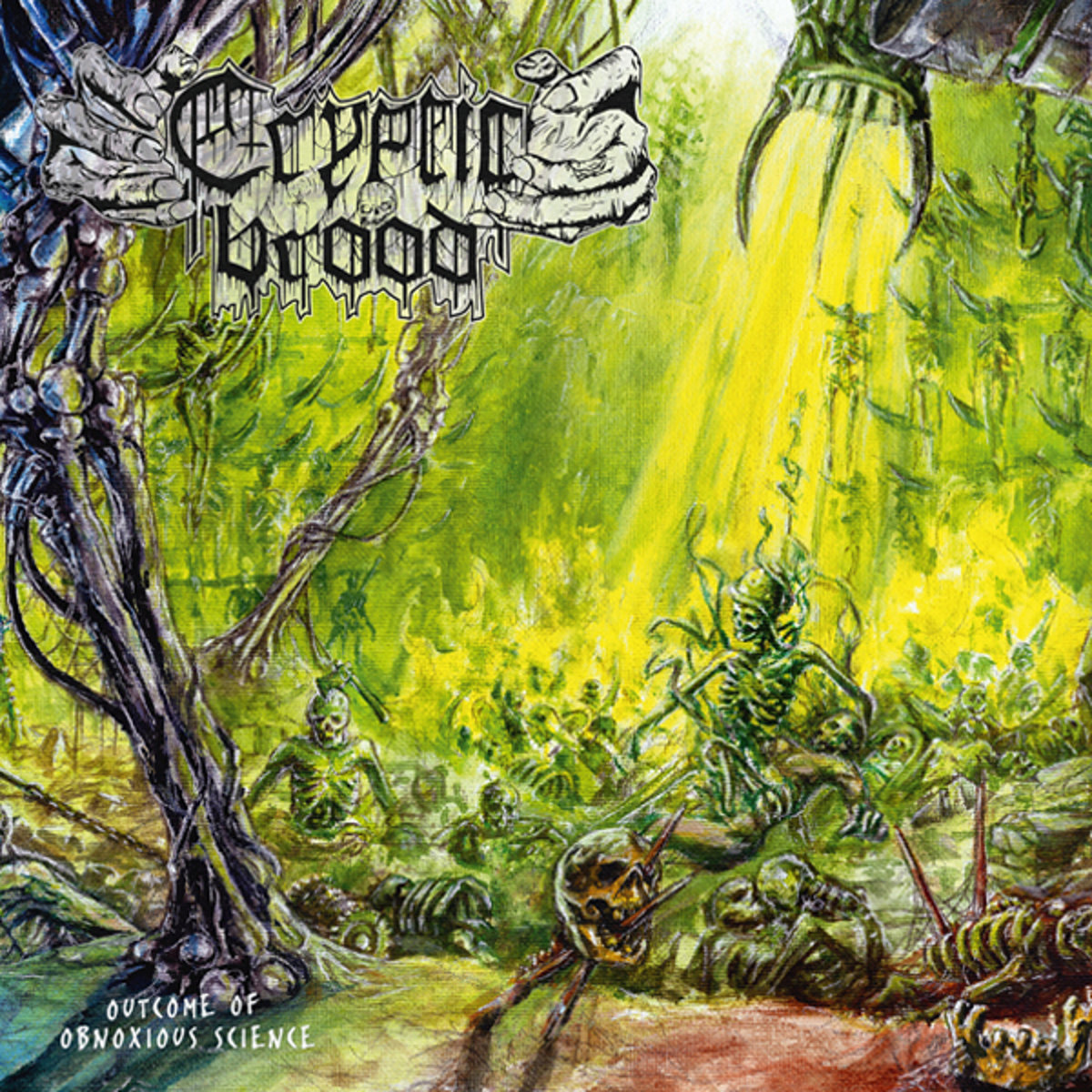 10. Schammasch – "Katbasis," from Hearts of No Light (Prosthetic Records). I believe I, as any self-respecting metal blog on earth, may have already mentioned the wonderful new album from these challenging Swiss fabricators of weird, progressive and atmospheric metal. But it does, I believe, bear repeating, especially since I have found myself returning to this album more than most recent and non-recent metal releases. I wasn't completely sold on the new-wave angle when the singles came trickling in, but as part of the larger whole every single idea, as weird and as outlandish as it may seem on its own, combines into a very satisfying, very interesting, and extremely catchy record. And this song seems to have grabbed my attention the most, a fine combination of nasty heaviness and reflexive atmospherics and mood. This may not have been a clear contender for AOTY when it came out, but boy is it rising up the charts as time goes by.
11. Cult of Fire – "(Un)Clean," from Moksha / Nirvana (Beyond Eyes). It seems that Czech black metal weirdos/geniuses Cult of Fire have decided to break their full-length, um, break, and announced the long-awaited successor to their 2013 album मृत्यु का तापसी अनुध्यान. The new album, due to be titled Moshka / Nirvana will arrive in March of 2020, it'll be a double album, and the first single us upon us all. As with everything Cult of Fire, this will have to take some time before it sinks it, but the new song is already delivering in spades in terms of that wonderful epic grandiosity. Looking forward.
FIVE MORE THINGS YOU NEED TO KNOW
ONE – Down with Austin Terror Fest, hail Oblivion Access. The initial lineup is up, and, boy oh boy. BOY.
TWO – Is your life sadly devoid of nightmares? Go to sleep with this in the background.
THREE – Decibel has released its top 40 for 2019. Interesting.
FOUR – That absolutely legendary and gorgeous Alcest / Les Discrets split celebrated a decade this week. A great excuse to revisit this classic.
FIVE – My son started putting two and three words together. He's a genius.
ONE LAST THING, PROMISE: Have you ever wanted a screamo version of Godfelsh. Well, it exists, and its name is A Constant Knowledge of Death.