SONGS I LIKED THIS WEEK IN LIST FORM: NOV. 22-29
Another week, another crushing by the cogwheels of emotional industry barely audible over the sound of chugging riffs. deluge of melancholic emotion having to do with a coming to terms with my own mortality, another batch of songs I liked. Be sure to check out the wonderful conversation I had with the very good people at Yellow Eyes, as part of our Albums of the Decade series of interviews. As always, follow us on Facebook for more recommendations, our weekly release recap, and just an overall positive vibe, on Instagram for racy photographs of me crying to Sad Wings of Destiny, on Spotify for a lot of playlists that make you reflexive and quietly incensed (that include everything mentioned here, as well), and on Patreon if you wanna piece of this lovely action going on here (bonus playlists, early access to stuff, getting our amazing compilation album, discounted merch, and so on). Shall we?
1. Droid – "Divine Ascent," from Hyperreality (Independent). How 'bout we start things off mellow this time, huh? The second album from Australian stoner/sludge/doom-sters is, at one and the same time, everything I hate about that combination mashed into such a unique form that they become everything I love about, and never knew. A combination between OM-like mantras, Kyuss-like expansiveness, and a QOTSA knack for catchiness and melody. Just fantastic, mezmerizing, and original (!) chill vibes. Love it.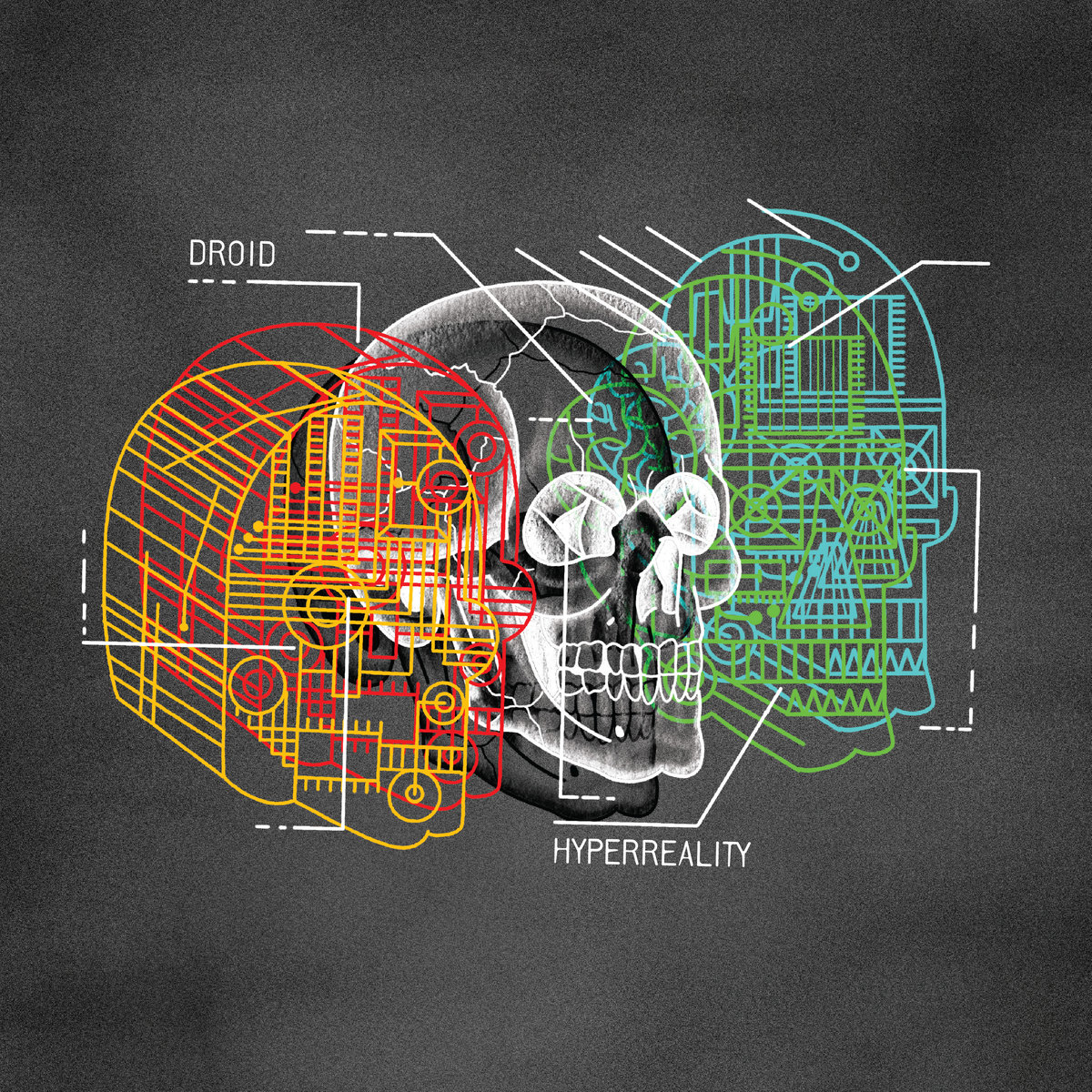 2. Ushangvagush – "I," from Inanition (Vigor Deconstruct). There are very few things as life affirming and mind expanding as watching Markov Soroka blossom from a brilliant artist to a brilliant promoter of other's brilliance. Always looking for like-minded, sick music, and, usually, finding it. This demo by Ushangvagush is a prime example of that, a one-man dissonant black metal event that seems to expand in space with every turn. This doesn't sound like a demo, it sounds like a nightmare, in the best possible way. What makes this whole thing even better is that the stunning album art (as well as its mastering) was done by Cameron Boggs, another brilliant newcomer to the Vigor Deconstruct family, and also known as the artist behind the magnificent prog/death project An Isolated Mind.
3. Serpens Luminis – "A Wreathed Skull," from Bright Euphoria (Independent). We might as well linger a little longer in the land of black metal nightmares, this time through the frightening new EP by the equally startling Swiss band Serpens Luminis. I'm really struggling to find the words that would capture the strange, riveting drama created by this momentous piece of music, but it goes something like this: Fear's Lee Ving is stuck in a basement with demons and the only way to defeat them is with downtuned dissonant guitars. This is such a special gem, and another installment in the ongoing series "The Wonders of the Swiss Metal Scene." Great, unique stuff.
4. Bestial Invasion – "The Garden of Earthly Delights," from Monomania (Independent). I guess we all really wanted to know what would happen if Athiest and Cynic came together to form a stonery power metal band. I mean, right? That wasn't just me? Because, regardless of who hoped for that to happen, it completely did in the form of Ukrainian madmen Bestial Invasion. Proggy death-metal riffs, over-the-top drama and singing, and top-notch musicianship. Just bonkers, weird, and addictive.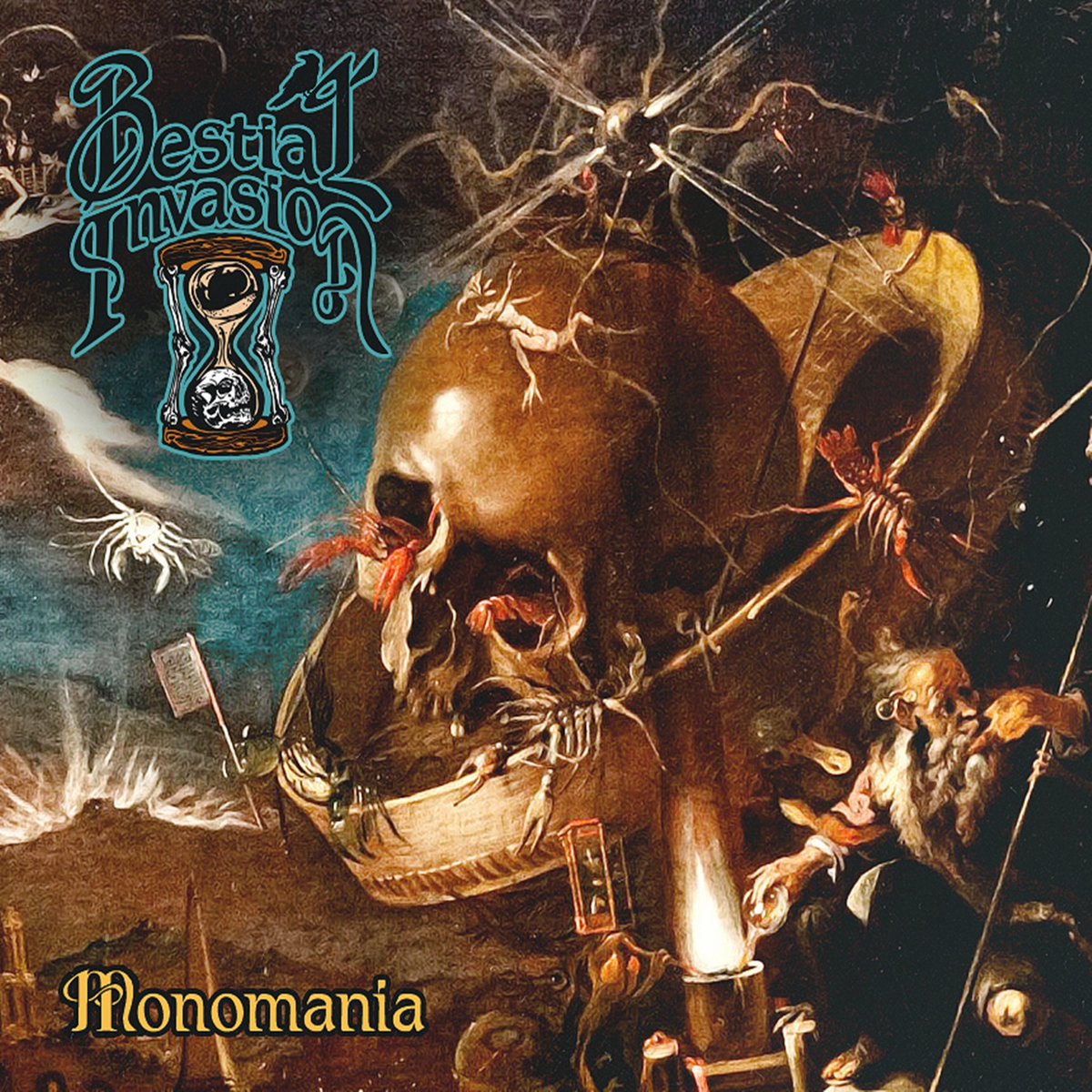 5. Shaam Larein – "Aurora," from Sculpture (Icons Creating Evil Art). I do realize that female vocalists isn't a genre in and of itself, but it is the case, for better or worse, that certain kinds of female vocalists seem to invoke others. And this debut single by (mark by words) future superstar Shaam Larein evokes a lot of things. It makes me think of Chelsea Wolfe, and of Marissa Nadler, and, I don't know, even someone like Nicole Atkins or Emma Ruth Rundle. Those are quite big, probably unfair, comparisons, because they don't give a sense of how unique and haunting this song is. I will say this: the second this album drops, I'm buying it. Amazing music.
6. Reveal – "Down Through the Hole," from Scissorgod (Sepulchral Voice Records). For that drug-infused, insanity-inducing, devil-worshipping punky-doomy-sludgy black metal weirdness, if ever the need arose, look no further than the newest from Uppsala's sons of darkness, Reveal. Reverbed out of its mind, hectic, and, to be honest, quite magical. This is the craziest it gets and at moments, such as around the 03:40 marks of this song, perfect.
7. Chrome Ghost – "Halo," from The Diving Bell (Independent). Look, the short version of this is that as soon as I heard this strange, moving, masterpiece of high-low song I have made it my personal mission to hear every sound uttered by the instruments held by the fine gentlemen of Roseville, CA's Chrome Ghost. If this is prog then this is the prog I want in my life. Ethereal, crushing, black metal attacks (of the gaze-y variety) constantly interrupted by weird voodoo, such as acoustic guitars and the most mesmerizing clean singing voice I've heard in a very long while. I'm not, I think, the target audience for trippy clean-sung prog. But here we are, friends. Here we fucking are. Amazing.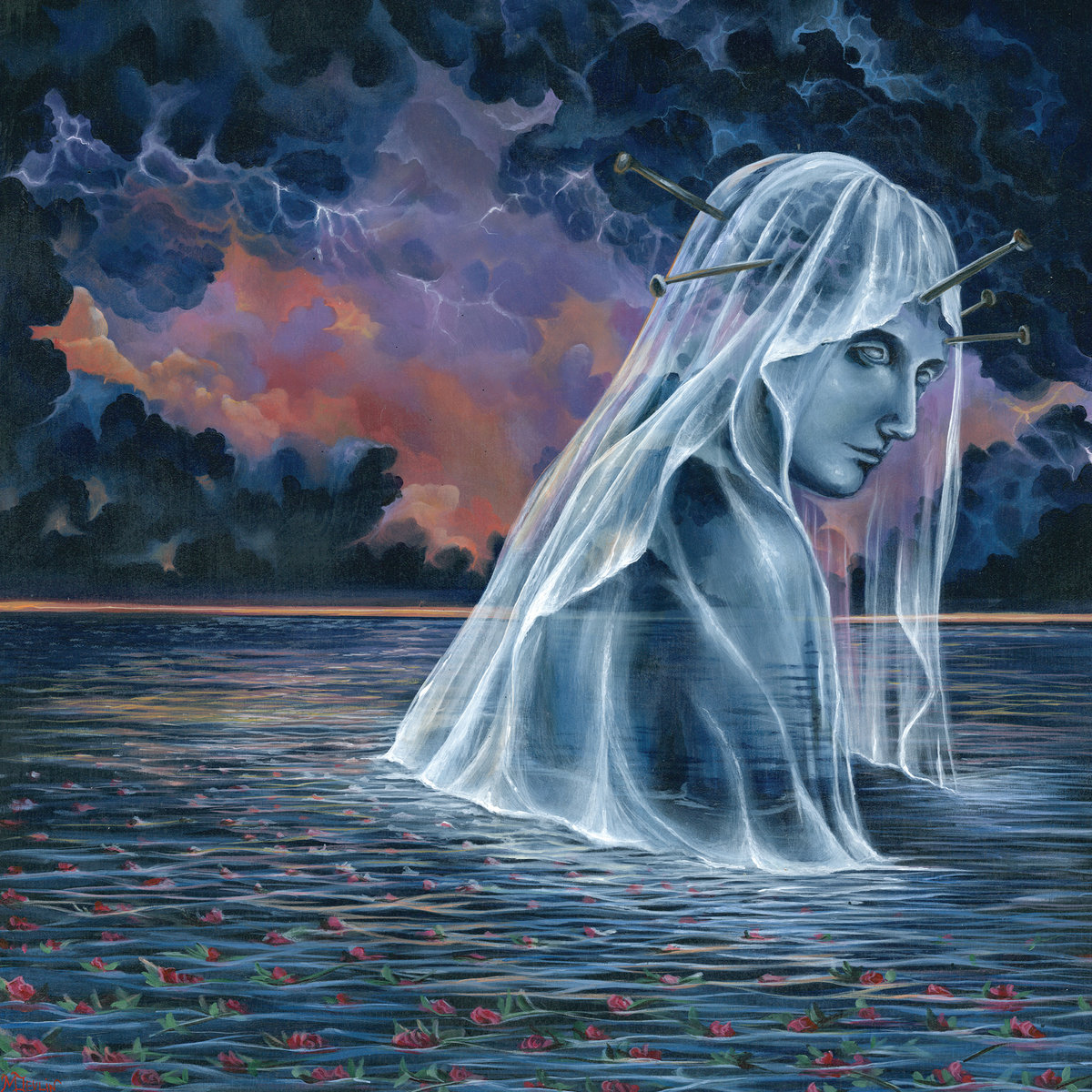 8. Lurid Panacea – "A Bizzare Curiousness, from The Insidious Poisons (Independent). That last one made you feel good, didn't it? All fluffy and emotional, and so appreciative of the talent that exists in the world that made you feel all that feel? Great. Now, however, it's time to feel like roadkill that has been molested by a dirty syringe, because that's exactly how this grind-death-tastic rollercoaster of pain is going to do. An Australian band of ill-conceived humans who do their best to pummel you into a fetal position of joy. I've heard this album so much at this point I may have changed personalities. I like new me. He hates people, but loves the riff.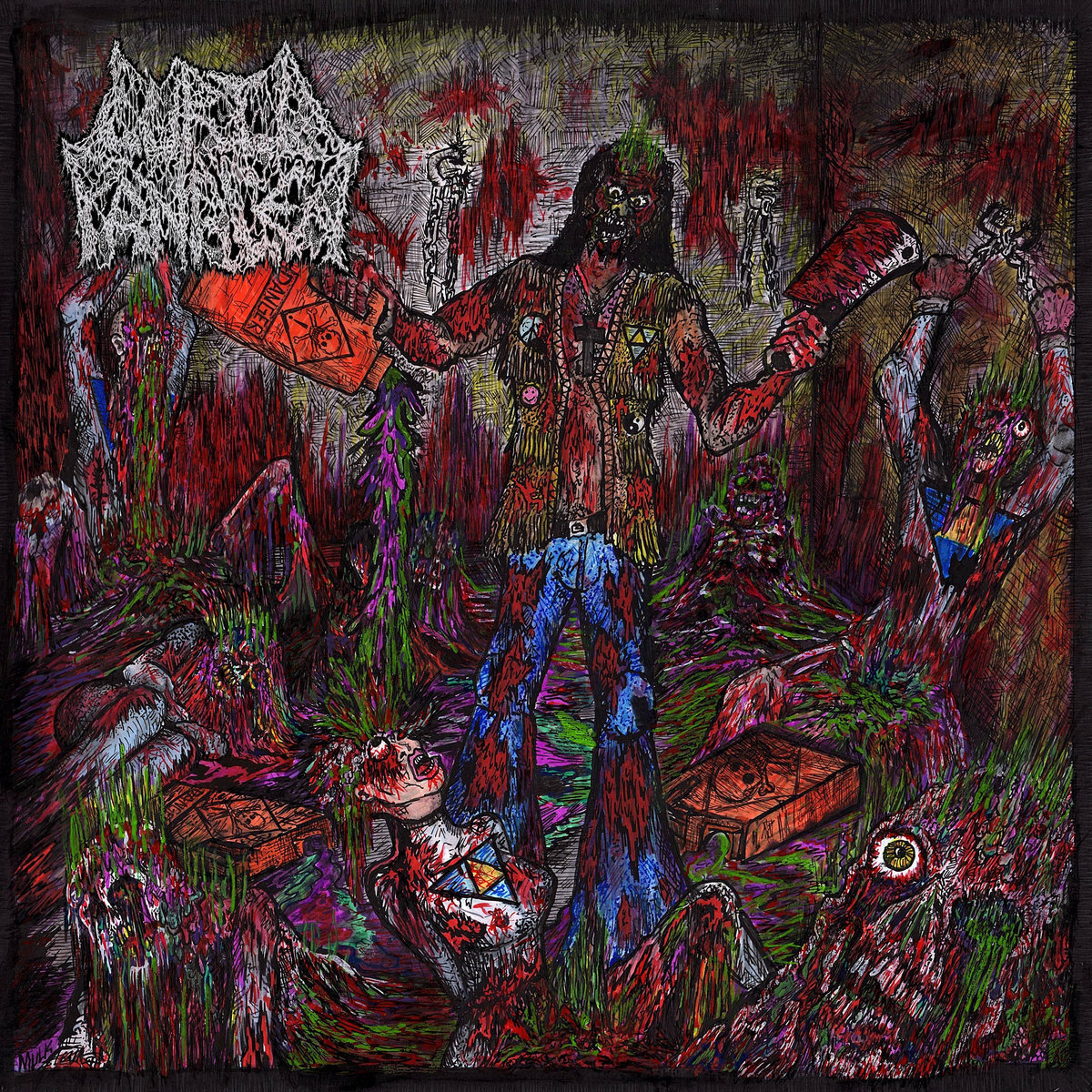 9. Disharmony – "By the Moonlight," Messe de Minuit (Iron Bonehead Productions). I was a teenager in the 90s, in a metal scene that was, I think it's safe to say, heavily influenced by the melodic doom/black metal angle that was pretty big back in the day, with the poster child of that wave being bands like Moonspell, on one end, and My Dying Bride or Anathema on the tother. Disharmony, hailing from Greece and originating in those times and tunes, sounds like the best version of a time capsule to 90s European melodic black/doom/whatever, only with better riffs and that gargly 90s growl/sneer that is such a thing of beauty. This came out as a special EP last year, it seems, but the physical and my awareness came this year. Glrorious and makes me want to buy a cape. By the way, for the best example Israel ever had of this vibe, you have to check out Substance for God. Amazing band, amazingly underrated, both in Israel and without.
10. Unreqvited – "Nightfall," from Mosaic II: la déteste et la détresse (Prophecy Productions). Atmospheric, depressive black metal at its finest, but you already knew that because they're Canadian. Oh, sorry, I only now mentioned it. So, yeah, maximum desire to rethink your life as it rains outside and you love has forsaken you for a very handsome cat, spun through the evil loom of two members known only as The Ember and The Ash. Which, if you're going for maximum despondency, is the only way to go. Beautiful. And that cover art, my dear satan.
11. The Angelus – "It Descends," from There Will Be No Peace (Independent). If you've heard Dead to a Dying World's masterwork from this year, Elegy (AOTY contender, as far as I'm concerned) then you must have heard that magical opening piece, that features a kind of duet between DTADW's Mike Yeager and fellow Dallas musician Emil Rapstine. Will, a little reverse engineering (and Rapstine's own kindness) led me to the latter's band, The Angelus which creates the kind of gothic, southern, doomy, folky magic that any self-respecting fan of bands like True Widow, DTADW, or even the folky parts of YOB just has to listen to. The song I chose here is from their amazing 2017 full-length, but they have a new EP well worth checking out as well.
FIVE MORE THINGS YOU NEED TO KNOW
ONE – Since this week marked 25 years to Enslaved's masterpiece Frost this whole section is dedicated to just name checking Enslaved albums, pretty much.
TWO – Below the Lights. Holy shit, right?
THREE – Big fan of In Times too, that was a top album for 2016 for me. They can do no wrong as far as I'm concerned.
FOUR – My kids have yet to hear Enslaved. That will be remedied.
FIVE – Probably my favorite, along with Emperor, of the second-wave Norwegian bunch. So cerebral, so emotional, just light years ahead of humanity.
ONE LAST THING, PROMISE: On a non-Enslaved note: Roadburn is coming for your FOMO, and is taking no prisoners. None. Oh boy.