The War Inside My Head: An Interview and Track Stream with diSEMBOWELMENT's Renato Gallina
This interview series, for the uninitiated, was meant as a way for me to allow some of my favorite artists to geek out on the music that inspires and moves them. Most of the time this meant writing about the albums that had kindled their love of music or that had taught them about what music could be. Some of the time, if I was lucky, these provided a rare glimpse into the mysterious ways in which one's love of others' music can influence one's own art, and change one's artistic direction. In the rarest of instances, however, the artists interviewed would weave together both their own music and the inspiration they gleaned from others into one, complex depiction of a musical consciousness at work. I think it's safe to say that this current installment, featuring the wonderful Renato Gallina of the legendary Australian band diSEMBOWELMENT, is a clear case of the latter.
Renato quite movingly moves from one spectrum of his musical interest to the other, interrogating what, for me, was one of the most fascinating aspects of diSEMBOWELMENT's classic Transcendence into the Peripheral – all those things considered, at least up until that point, to be decidedly "un-metal." Which are those same elements, interestingly enough, that turned Transcendence – which was the topic of this interview I did with Renato a few years back – from just one other fantastic metal record to a unique, idiosyncratic entity that not only inspired many when it came out (almost exactly) 30 years ago but continues to fascinate minds to this very day. A record outside this world, one enriched, as you shall see in the interview below, by an array of moods and textures. In many ways I think this works quite well as a companion piece to that first interview, somewhat expanding on some of the themes that had arisen there.
However, as if all of this was not enough, Renato was also gracious enough to add one very special gem to this jewel of an interview – a mesmerizingly beautiful reworked version of "River of Salvation (My Divine Punishment)," the instrumental track that had served as the introduction to diSEMBOWELMENT's Deep Sensory Procession into Aural Fate demo, released in 1991. Taking the original track's blistering guitars and death-doom progression, Gallina reimagines it as an almost ritualistic drone, replete with ominous, chanting vocals and a gorgeous, almost post-punk atmosphere. It's a thing of true beauty, and one that I am, again, quite honored to present as part of this already fantastic thing. Life is a wild thing sometimes, isn't it?
As always, check out my various interview projects and other cool shit. And if you'd like to keep abreast of the latest, most pressing developments follow us wherever I may roam (Twitter, Facebook, Instagram, Spotify and now also a tape-per-day series on TIK TOK!), and listen to my, I guess, active (?) podcast (YouTube, Spotify, Apple), and to check out our amazing compilation albums. You can support our unholy work here (Patreon), if you feel like it. Early access to our bigger projects, weekly exclusive recommendations and playlists, and that wonderful feeling that you're encouraging a life-consuming habit. On to Renato.
What was the first album you bought with your own money, and where did you buy it?
AC/DC's Back in Black. All the KISS albums I owned prior to this AC/DC album were bought for me by my mother and uncle. By the time I had my own pocket money, I was 10 years old and Back in Black had recently been released. I already really liked a few earlier AC/DC songs, particularly "TNT" and "Jailbreak," but when Brian Johnson joined AC/DC for Back in Black, I definitely preferred his vocals over Scott's. The production/sound on Back in Black was "tougher" than their previous albums too. At that time, "You Shook Me All Night Long" had been getting a lot of airplay on commercial radio/tv and it really appealed to me, especially after already being on a diet of KISS. Then, once the song "Back in Black" started getting airplay on radio/tv, it prompted me to go and search for the actual album. I found it easily in a record and music store called Brashs (Northland Shopping Centre), which was the 'go-to' music store for most people living in Melbourne. They sold everything to do with music; musical instruments, hi-fi systems, sheet music and of course vinyl and cassettes. It was a large store and they had several around Melbourne. 
It was always exciting going there when I accompanied my mum on her shopping trips. Also, my mother used to work in this shop when she was younger and it was called Suttons, so she was very familiar with it and also knew a few of the sales staff, so the store we went to would give her discounts on purchases. Every time I stepped into this store it was exhilarating. They had so many records in there. All systematically ordered from A-Z in squeaky clean, clear vinyl covers which gave off an intoxicating scent. I would always gravitate towards the "K" section and gaze at the KISS albums which I hadn't owned yet, followed by the "A" section where the AC/DC albums were located. I must admit, I was also drawn to the Back in Black album because of its cover artwork. It was akin to KISS's Double Platinum album cover but instead of the band logo being embossed on metallic silver (which fascinated me), the AC/DC logo was embossed on black. I really liked the AC/DC logo too. There was a similarity with the KISS logo, as the lightning bolt in between the "C" and "D" was similar to the "S" used in the KISS logo. My creativity was already being stimulated at that age. I remember taking the album nervously to the counter and handing it to the sales assistant. It was that first moment of financial independence. I think it cost something like $AUD12 which was a lot of money for a 10 year old back then. 
When I bought the album from Brashs, I couldn't wait to arrive home and listen to it. This was 1981. Little did I know that my next purchase wouldn't happen until 1983, when Quiet Riot exploded onto the music scene with their commercial hit, "Cum on Feel The Noize," which of course was a Slade cover. Musically, that's when everything changed for me. Iron Maiden had released Number of the Beast a year earlier and the video for "Run to The Hills" got commercial airplay in Australia and I remember seeing it for the first time thinking they were wild. My KISS albums, and my one and only AC/DC album, then began gathering dust. Enter the world of "heavy metal."
What 2-3 albums did your listen the most in your teens?
As I was a teenager from 1984-90, I would quite confidently say the following:
1. A tie between Kreator – Pleasure to Kill and Bathory – Under the Sign of the Black Mark. What can be said about those two epic albums without going into detail? The way that both of them started, "Choir of the Damned" / "Ripping Corpse" and "Nocturnal Obeiscance" / "Massacre." Nothing short of INTENSE, in BOLD capital letters. Enough said. Those two albums got completely worn out.
2. Mercyful Fate – Don't Break the Oath. I still remember the very day I bought this album on vinyl and the magnetic effect it had on me. I bought it second-hand and it had a small, but significant, cigarette burn on the front cover. I can only imagine how it got there. From the mysterious cover artwork, to the music, it was incredible. I bought it because I had heard the track, "Gypsy," on radio. That track mesmerized me. It was absolutely potent. There was just 'something' about it. Once I heard the whole album, I couldn't stop playing it and I actually know why it had the effect that it did on me. I then went and tracked down Melissa on vinyl because I heard "Into the Coven" and I was mesmerized again.
3. Metallica – Ride The Lightning. In '85, I heard the tracks "Fight Fire with Fire" and "Ride The Lightning" on the radio and was instantly hooked. They were so powerful. I loved the album cover artwork and the Metallica logo too. Around the same time, the Creeping Death 12" was released with "Am I Evil" and I rushed to buy it because of "Am I Evil," which I became so obsessed with. It was a super heavy, nasty track with all the right ingredients. Perfection. It was after buying these two Metallica releases that I started hearing tracks from Kill Em All on radio … "The Four Horsemen," "No Remorse" (with that blistering lead solo at the start) and "Seek & Destroy." They really captured my attention and then that album was gifted to me (as a limited-edition vinyl picture disc) by 3RRR radio as a way of saying "thank you" for a gig poster I created for them. I was so thrilled.
I used to go on the hunt for second-hand vinyl, as buying new vinyl, especially from Europe (ie; Noise, Steamhammer, Music for Nations, Roadrunner etc), was quite expensive for a teenager that didn't have much pocket money. One new vinyl would cost around $AUD18-20. Second hand you could buy the same vinyl for around $AUD10. I remember that the Kreator, Bathory and Mercyful Fate albums I mentioned were all bought second hand and Ride The Lightning I bought new. There were four record stores in the city center of Melbourne that sold metal:
– Central Station Records which later became Metal For Melbourne; the most popular metal record store in Melbourne.
– Collectors Corner, specializing in everything from second hand punk, post-punk, indie, hardcore, metal, folk, jazz, rock)
– Missing Link, for new and second hand punk, post-punk, indie, hardcore and metal)
– Pipe Imported: for all the latest from Noise and Steamhammer releases plus Krautrock. This was the go-to place for all underground extreme music and I bought many albums here. Always an exciting place to enter as a teenager, because you would never know what conversation you'd have with Daniel (the owner) and what he'd end up recommending to you. One thing was for sure, after you left, you were thinking about returning again to hear what new releases he might have got in from Germany. That was the time of Noise and Steamhammer.
Anyone from Melbourne that was a teenager in the 80s and liked metal, would have good memories of all these records stores. Each store had its own characters and stories. There were also two independent radio stations that would play metal from around the world; 3RRR and 3PBS. They definitely played a pivotal role in exposing so many international metal bands to fans of the metal genre in Melbourne. It was an exciting time. I always had my TDK/BASF cassettes ready to record as much as I could from these radio shows and lots of mix tapes were created as a result.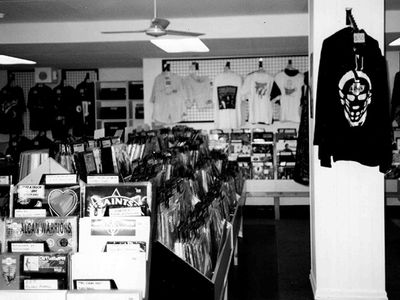 What albums taught you the most about the technical aspect of making music?
These albums come to mind, for many different reasons:
Metal
To Mega Therion by Celtic Frost
Left Hand Path by Entombed
Cause of Death by Obituary
Bloody Kisses by Type O Negative
Altars of Madness by Morbid Angel
No Exit by Fates Warning
Hall of the Mountain King by Savatage
Operation Mindcrime by Queensryche
Blue Murder by Blue Murder
 Non-metal
The Unforgettable Fire by U2
Love by The Cult
Starfish by The Church
Labyrinth by The Moffs
Electric Ladyland by Jimmy Hendrix
Kind of Blue by Miles Davis
Carved in Sand by The Mission
Lovely Thunder by Harold Budd
Spooky by LUSH
Nowhere by RIDE
The Moon and the Melodies and From Heaven to Las Vegas by Cocteau Twins
Spiritchaser, Within The Realm of a Dying Sun, Into the Labyrinth by Dead Can Dance
Quiet Letters by Bliss
Tourist by Saint Germain
Homogenic by Bjork
Temperamental by Everything But The Girl
Protection by Massive Attack
Suzuki by Tosca
What Australian non-metal bands made an impression on you and inspired you?
Many made an impression, and inspired me, right up until the Transcendence into the Peripheral album was completed. As already mentioned, I used to listen frequently to the Melbourne independent radio stations, 3RRR and 3PBS, and both had particular post-punk and independent music radio shows that caught my ear and it was there that I discovered so many of the outstanding Australian bands that I would then go and see perform LIVE. Reminder; this was the 80s up until the early 90s … pre-internet. Radio was a critical resource for music fans.
I can confidently say that the Australian non-metal bands that actually inspired me in terms of diSEMBOWELMENT were:
The Church: First heard them perform live on Australia's most well-known tv music show, Countdown. That was 1981and they performed "The Unguarded Moment" which was their first commercial hit. It really stuck in my head, that track. But, it was "Reptile" from their incredible 1988 album, Starfish, that did it for me. Those sublime melodies soaked in reverb and delay. Enough said. One of my favorite songs of all time and for me, Australia's best "alternative" band. A group of magicians. My favorite albums of theirs are Starfish, Heyday, Gold Afternoon Fix and Priest = Aura.
The Moffs: One of Australia's most underrated independent bands. I discovered them at the beginning of my time of independence; finishing high school, getting my driver's license and also starting my graphic design degree at university where I mixed with many interesting, creative individuals. Often, there would be Melbourne independent bands coming to our university campus to play live during lunchtime so it was a way of meeting new people and hearing new bands. 
Someone uploaded live footage on Youtube of The Moffs playing at the University of New South Wales in 1988, which was really interesting to watch. When I saw it I wished they would have played at our university. The Moffs' sound instantly appealed to me. It was very atmospheric, dreamy and psychedelic with mediterranean and middle eastern undertones. Tom Kazas was a master of melody. He really knew how to take you away when he played guitar. The Pink Floyd influences were obvious and I know for a fact that many people who liked The Moffs were into psychedelics so you could understand their appeal. 
They recorded so many timeless, moving tracks. I still listen to The Moffs. Unfortunately, I never actually got to see them perform live as The Moffs, but I saw Tom Kazas perform on a few occasions to promote his solo work and even spoke to him once and asked him if he was interested in producing our first Trial of the Bow EP. There's a compilation CD that The Moffs released in 2008, The Collection, which has everything they've ever recorded. They made a big impression on the Australian independent music scene with their first 7" single, "Another Day in the Sun" (1985) and then their following 7", "Flowers," which then led onto their phenomenal 1986 EP that has the tracks "Look To Find," "I'll Lure You In," "A Million Miles Past," "The Meadowsong Part I/II," and "I Once Knew." Nag Champa incense is recommended if you're going to listen to this. And their career ended with their monumental Labyrinth album. Tom Kazas is still releasing his own music and some of it has resonated with me.
The Borderland: Discovered them by chance playing live in Melbourne and became mesmerized by their sound. They were a goth band and never released anything other than one demo and a track, "Sole Solution," which was included on a compilation cassette called Red Tape (1990) and then just quietly disappeared. They were dark horses and kept a very low profile indeed. You'd be lucky if you saw them play twice a year but I remember when they did play it was like a religious experience. If I ever heard that they were playing I would make it a priority to go. I also remember buying one of their t-shirts, which was very cool. The way the guitarist, Harry, used melody with his Boss Digital Delay pedal, 100% put ideas into my head. That's a fact. 
I vividly remember experimenting with my own Boss Digital Delay pedal trying to emulate what I saw him do. I can still remember one particular melody that I came up with a day after seeing them play. He was the first musician in Melbourne that I had seen do that with those effects, so he completely inspired me. If I'm not mistaken, I think they also used to do a Killing Joke cover (perhaps "Love like blood") during their live sets.
The Crystal Set: The singer/bassist of The Crystal Set was the brother of Steve Kilbey (The Church) and that's one of the reasons I became interested in them. Intriguing how they both played bass and were vocalists. The Crystal Set has similarities to The Church but also incorporated piano into their sound. It's clear that the Kilbey brothers were blessed with an incredible sense for melody. They released a superb album, From Now On (1987), which I had on vinyl. So many memorable tracks on that, two of them being "Benefit of the Doubt" and "Wholly Holy."
Eden: A friend of mine was friends with the singer/guitarist and said that I'd like their music because she knew I liked Dead Can Dance. I recall seeing one of their 12" EPs in a record store and buying it because of the design of the cover. Not long afterwards I found out that the second band member of Eden was also a graphic designer. Eden had a very ethereal, atmospheric and grandiose sound. Their Gateway to the Mysteries (1990) album was a stunning recording and the track "The Unveiling of Brigid" is sublime. Quite timeless. I still listen to it.
The Stems: Their track, "At First Sight" (1987) was hugely popular in the Australian independent music scene. In a similar vein to The Saints' "Just like Fire Would," and Hoodoo Gurus' "Bittersweet." An uber cool, catchy track that perfectly typifies that unique Australian independent music sound. I used to like listening to this whilst driving.
The Go-Betweens: I remember hearing "Streets of Your Town" on 3RRR radio when I was about 19, and instantly loving it. It was so uplifting. Many Australian independent music fans would probably agree that this is one of the best tracks ever from Australia's independent music scene. There's a lot of nostalgia attached to this song, especially for those that grew up in Sydney. I never tire of this track due to its infectious melodies.
Ripe: I saw them play live quite often in Melbourne. Their debut album, Filterfeed had a track called "Dream Killer" and the start of that track had this melody and guitar effect that completely pulled at your heart strings. It's clear that they were big Beatles fans. They had a very UK sound. Kind of like The Beatles/Ride/Happy Mondays.
Other Australian non-metal bands that made an impression on me were: The Clouds, Underground Lovers, Ratcat, The Triffids, The Saints, Hoodoo Gurus, Not Drowning Waving, Bored! Hellmenn, Mass Appeal and early INXS, particularly the Shabooh Shoobah album, which I consider a complete masterpiece. It's incredible to remember that this album was released in 1982. It hasn't dated for one second.
What was the last album that made you think?
Dionysus by Dead Can Dance. I've listened to Dead Can Dance since 1988 and their sound has always resonated with me. It's phenomenal that they can still create such masterful, memorable music after so long. There's been no "album" since Dionysus was released in 2018 that has made me "think." It's a seriously 'deep' recording that resonates so much with me. It has conjured so many thoughts and emotions since I first heard it. Lisa Gerrard and Brendan Perry are two deeply intellectual and fascinating individuals that know how to create sound to stimulate the mind. I believe it has been their mission to deliver this special music to the world. They are pied pipers. I have the greatest amount of respect for both of them. I feel like they are kindred spirits.
What album relaxes you or centers you the most?
Without a shadow of a doubt, Harmonic Meetings by David Hykes and the Harmonic Choir. Out of all the albums that I have ever owned, this is THE ONE that I have listened to the most. I discovered it in 1989 when I began university. Pieces from it were played on an "ambient" radio show on 3PBS Melbourne, which was presented by Andrew Hollo. I discovered a huge amount of ambient music thanks to him. I recorded some of the pieces from his show on cassette, and not long afterwards managed to track the album down on CD in a small record store in Melbourne specializing in ambient and experimental music. This album changed my life. I still listen to it very, very often and have recommended it to so many people. For me, it's the most 'divine' album ever recorded. Capable of connecting one to 'source'. It has a high frequency and vibration, which makes it precious. I love the fact that it was recorded in an Abbey in France. I've listened to this album amongst nature (particularly in the Italian and Swiss alps) and it's immensely powerful in such settings.
What are the 2-3 albums you've listened to the most recently?
Kruder & Dorfmeister – 1995
Ron Trent – What Do the Stars Say to You
Aya – Soundbath Love
What album is grossly underrated?
There are so many underrated albums I could mention, however I'm going to actually name two that come to mind. Coincidently both from 1989 and both bands didn't record another album after their debut. Sound familiar?
1. The Moffs – Labyrinth (Citadel Records, 1989). As already mentioned above, The Moffs, from Sydney, are one of my favorite bands ever. 'Labyrinth' is like taking a magic carpet ride. It weaves its spell on you. Tom Kazas, the singer/guitarist/songwriter was a pied piper. Every song is special here. That same year I heard a cover version they did of "Eight Miles High" by The Byrds which was mesmerizing. I remember hearing it on 3RRR radio, recording it on cassette and then soon afterwards buying the Labyrinth album thinking that it would be on there, but unfortunately it wasn't. I was a little disappointed, I must say, but all the incredible songs on Labyrinth definitely made up for it. As the opening track, "Touch the Ground" starts, you feel goosebumps and when it finally takes off you realize how good the musicianship is. The bass player, David Byrnes, was amazing, as was his brother Andrew Byrnes, the drummer. When you get to track two, "Tapestry," that's when the magic really hits you and it just escalates from there. The production is beautiful and smooth with a very lush atmosphere. By the time the last track, "Who'll Point You," comes to an end, you realize you've been on one very special journey, and you'll want to return to the sublime places that these songs took you.
2: Sea Hags – Sea Hags (Chrysalis Records, 1989). I discovered this band, and their only album, by accident in 1990. In my opinion, an absolute diamond from start to finish. The front cover artwork and band logo gave off a sense of punk-rock, and when I looked at the back cover and saw the b&w band photo, I got an immediate sense that they were from L.A., but later learned that they were actually from San Francisco and Kirk Hammett produced their first demo before they were signed to Chrysalis Records. The band photo on the back cover had that Guns 'n' Roses "motorbike rock" type-of-look. They definitely looked the part, and projected real attitude. In my creative opinion, the photographer did a stellar job capturing that look and art-directing the shoot. 
Anyway, I remember I was a bit unsure about even wanting to listen to this album because in 1990 I was tape trading endless underground death metal demos, but I was also listening A LOT to Nirvana's Bleach, Mudhoney's Superfuzz Bigmuff and Soundgarden's Louder than Love. I absolutely loved the stuff coming out on SubPop. It really resonated with me. Anyway, curiosity got the better of me and I decided to give the Sea Hags album a spin. Was I surprised! I immediately got hooked. The first track, "Half The Way Valley," comes ripping out of the speakers and hits you like an out-of-control steam train. Full-throttle, dirty rock n roll with plenty of Attitude (with a capital "A"). The perfect way to start an album like this. 
There are no fillers on this album. I recall looking at the band photo at times thinking "these guys are going to be really big!", but unfortunately, they just never made it. They disbanded after their debut. More victims of that U.S. West Coast "sex, drugs & rock n roll" lifestyle. A tragic, volatile story. This debut album was produced by Mike Clink who produced Guns n Roses' Appetite for Destruction. You can clearly hear the similarities. Perfect production, but unfortunately it went completely unnoticed. For me, this album is on par with Appetite for Destruction. It's THAT good.
What albums made you feel as though they were made by a kindred spirit?
Intriguing question and certainly not easy to provide an answer. After a bit of thought, I'd say:
Dead Can Dance – Aion
Dead Can Dance – Spiritchaser
Dead Can Dance – Dionysus
Dead Can Dance – Into the Labyrinth
David Hykes – Harmonic Meetings
David Hykes – Hearing Solar Winds
The Moffs – Labyrinth
TUU – All Our Ancestors
Ryuichi Sakamoto – Original pieces from the The Sheltering Sky soundtrack
Gabriel Yared – Original pieces from the Betty Blue 37°2 Le Matin soundtrack
Gabriel Yared – Original pieces from the The English Patient soundtrack
Gustavo Santaolalla – Original pieces from the Babel soundtrack
The Master Musicians of Jajouka – Apocalypse Across the Sky
L. Shankar – Who's to Know
Samantha James – Rise
Samantha James – Subconscious
Aya – Strange Flower
Aya – Soundbath Love