NINE SONGS I LIKED THIS WEEK IN LIST FORM JAN 17 – JAN 23 – PLAGUE EDITION #43
Guess what happened this week?! Nothing! Shit's the same! Great! I mean, that's only partially true, mostly because we published a grand (grand!) new interview with grinding greats Cloud Rat (read here), which was both 1) fun and great and honored and 2) very timely since I had just been shat on by a shitty band with a shitty attitude (vis-a-vis a different interview) and dealing with people as genuine, nice, and talented as Cloud Rat restored some of that lost faith in the bags of bones and pettiness we call humanity.
Other than that, as usual, check out our multiple interview projects and other cool shit. And if you'd like to keep abreast of the latest, most pressing developments follow us wherever we may roam (Facebook, Instagram, Spotify, Twitter), to listen to our shitty podcast (YouTube, Spotify, Apple), and to check out our amazing compilation albums, and give me your damn money (please!) on Patreon. Bye.
1. Panopticon – "Know Hope," from And Again into the Light (Black/Death – Bindrune Recordings). Well, not much to say here, is there? Two years after his sprawling The Scars of Man on the Once Nameless Wilderness and following a year of some great non-album projects (split with Aerial Ruin, the amazing split with Nechochwen that was on our 2020 list, the Beast Rider EP, a cover of King X's "Pleiades," and a fantastic live album) Austin Lunn is back to wield some melancholy Minnesotan destruction with a brand-new full length. And maybe it's the apparent lack of any kind of folk element in this first single and maybe it's the cover that feels like a hard throwback to On the Subject of Morality and that kind of era I have a feeling there's a serious ass kicking coming our way. Perhaps even an ass-whoopin', who knows?! There might not be time! We have a pretty nice little Saturday planned! Anyhow. Good news. FFO: Campfires, Smoking and Curing Meats, Trees. Here's my nice chat with Austin from a while back.
2. Cara Neir – "Valkyrie," from Phase Out (Post-Hatdcore/Black Metal – Independent). Apparently what the world needed right now (aside from "love, sweet love") is for Cara Neir to release a concept album about being sucked into a video game. I really didn't that would be what I required until I heard the few advance tracks from the upcoming album by the Texas post-black-whatever duo but here we are. I loved, loved Part III / Part IV and pretty much everything they've done but this has to be one of their best songs. Groove, menace, weirdness, and just overall great. FFO: Chat Pile, Intercourse, Serpent Column.
3. Socioclast – "Eden's Tongue," Socioclast (Death/Grind – Carbonized Records). I've said it once and I'll say it again – grindcore at its best is a miniaturized version of what a song is, kind of like a very intricate scaled-down model of a huge metropolis. Even though it's small, relatively speaking, the amount of detail and changing moods that goes into a 30-second song can be equivalent to what you would hear on two "normal" songs. It creates a kind of time-warp effect, where you go through so much but it happens so fast that by the end you're confused as to what actually happened. This first single from the upcoming debut by San Jose monsters Socioclast is that, all that, and more. Nine-hundred riffs, 9,000 BPM, and then, on top of everything, an atmospheric breakdown. If the rest of this album is as good as this…. We're going to have a conversation about this album by the time the year ends, I can tell you that. FFO: Caustic Wound, Carcass, Mortuous.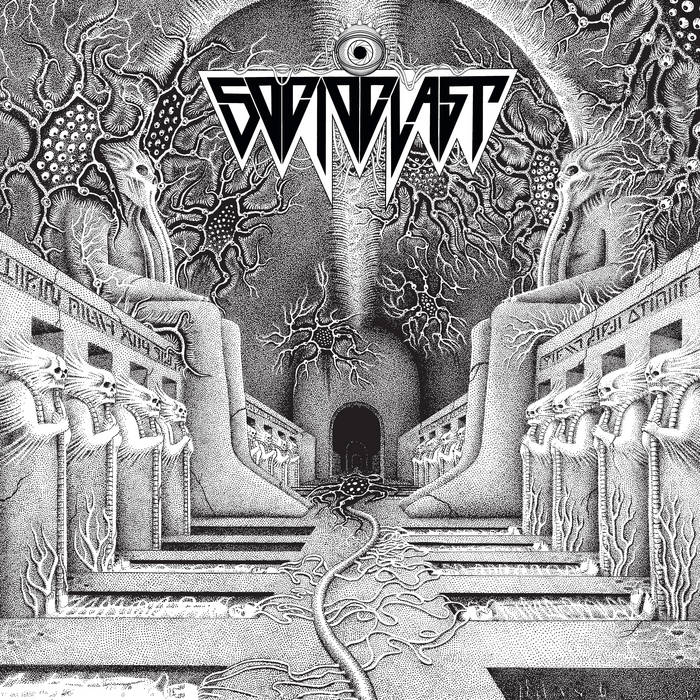 4. Forhist – "II," from Forhist (Black Metal – Debemur Morti Productions). I love my dad, I really do. I think that growing up I misconstrued what I though was a lack of assertiveness which really was just flexibility. Young men are often not taught enough about flexibility, they consider it weakness and I think as a teen I thought he was weak, which wasn't the case. He was and remains a good father and good husband, those are not common. Having said all that, however, I want Vindsval to be my dad. Now, I know there are a few factors in the way here, the first being that it might not be the best idea to be adopted by a dude who has a band called blood of the north as I sit to write this in the bowels of Tel Aviv, and one other issue being that he's only a couple of years older than I. For years he and his partners in crime (well, mostly W.D. Feld) have produced some of the most evocative, piercing metal ever made, all while evolving and being super smart. They're like Ulver had Ulver stayed metal, I guess. And Forhist is just one other chapter in that flawless history, a project much more "black-metal-y" than mostof what Mr. V. has going on right now but despite the fact that it's a bit more straight-forward it's still clever as all hell and emotional and wonderful. So, what do you say, Vindsval? You'd love your grandkids. FFO: Wise French Men, Blut aus Nord, Cuddling Foxes.
5. MYRDØD – "Kyvorous, Illuminate Still Waters," from Spells ov the River Witch (Black Metal – Independent). I wrote, quite enthusiastically I must say, about the EP that this one-man project released last year, and went as far as including it in my 2020 list. That was me of the past, wise and benevolent, emotionally rich and spiritually deep. And what, then, shall this generous soul tell you now that the mysterious project released a new, ah, EP? or album or whatever? I say, with a deep baritone of harmonious intellect: Fucking told you so. No lack of new black metal at any given time, really, what with Repose, Death Kvlt, Brucia and others supplying the goods. But this right here has me excited, and I shouldn't be excited. I have to watch my salt intake too, it seems. I'm excited. So good, and obviously owing some influence to the father figure mentioned in the previous section. Do not sleep. FFO: Blut aus Nord, Decoherence, Esoctrillihum.
6. Black Sheep Wall – "Concrete God," form Songs for the Enamel Queen (Sludge/Hardcore – Silent Pendulum Records / Sludgelord Records). Six years since their last full length, I'm Going to Kill Myself, the California sludging machine is back with some well-needed bleak fury. Both tracks out now are pretty great but the atmosphere on "Concrete God" was just too much for me to resist. Sounds kind of what would have happened if Indian had made angry love with Cult of Luna an sired (love that word) Rorcal/Knut's depraved cousin. Does that work? Does for me. FFO: Knut, Converge, Indian.
7. Djevel – "Englene som falt ned i min seng, skal jeg slippe fri med brukne vinger og torneglorier," from Tanker som rir natten (Black Metal – Aftermath Music). I've been a happily melancholic passenger on the Djevel train ever since 2013's masterful Besatt av maane og natt and sternly believe they have one of the most impeccable discographies in all of black metal since forever. And yet (I hate it when people write this but in this case I just have to) I've always wondered why they weren't hailed everywhere. The discrepancy between how good they were/are and the lack of hype was and remains an enigma (I even dedicated a whole category just to this worthy cause in the 2019 list). And so news of a new album coming this "spring" (whatever that means) and a new from these masters is always great. And yet this first single is kind of leaving me torn. This is, I think, the thinnest they've sounded in quite a long time. One of the things I've always appreciated about them was their sound, whether it's full-fledged black metal bombasity or their low-key folky compositions. Here, at least judging from the this first song, I really am kind of struggling to see what's going on. Songwriting, as always is great, new vocalist Kvitrim sounds great (new Vemod when?!?!), but the recording is baffling. I guess if you expect a more lo-fi thing then you might be happy, and I also think I can get used to it, but it's a bit weird, not going to lie. Still, even at 80 percent they're miles ahead so definately worth a try. FFO: Mayhem, Tsjuder, Taake.
8. Diskord – "Abnegations," from Degenerations (Psych Death Metal – Transcending Obscurity Records). Transcending Obscurity, one of the most hard-working labels in the universe for the past few years, released a sick-looking 2021 label sampler (that elephant is fucking awesome) with tons of stuff due to be released in the new year. And I guess I could be all doucey and say "I've personally been waiting for" or some shit but really I haven't even heard of Diskord until a few weeks ago thanks to Julius, a generous and knowledgable Facebook soul. He directed my attention to their masterful 2007 album Doomworks which proceeded to make love to my brain and plant worms in my eyes. So, I was hooked (good for those worms!) and patiently awaited new music while listening to the old on repeat. And here it is, the first single from the upcoming album and it's as weird and as wonderful as anyone would have hoped. Twisting and turning on a dime, expanding the mind, breaking the bones, flicking the cigarette, and shutting the door. Cool shit, I guess is what I'm saying. FFO: Oranssi Pazuzu, Bergraven, Negative Plane.
9. Fractal Generator – "Macrocosmos," from Macrocosmos (Death Metal – Everlasting Spew Records). Another one I've seen everywhere lately (I should say when I say "another one" I'm actually referring to an entry from last week's post, which would make sense only if you're as stupid as I am) and for good reason. Seeing Morbid Angel mentioned in describing these Canadian weirdos and I think that's more than an apt comparison. Another one would be Gojira when Gojira sound like they're influenced by Domination-era Morbid Angel. So, yeah. Great shit, tight, but not to the appoint of being annoying about it, and with a nice feel as to when to lay off the all-out Morbid assault for a few nice breaks here and there. If I may, I feel like this is the kind of a (very good) album that might grow into a pretty amazing one once those atmospheric parts get worked out even more. Still great as it is. FFO: Morbid Angel!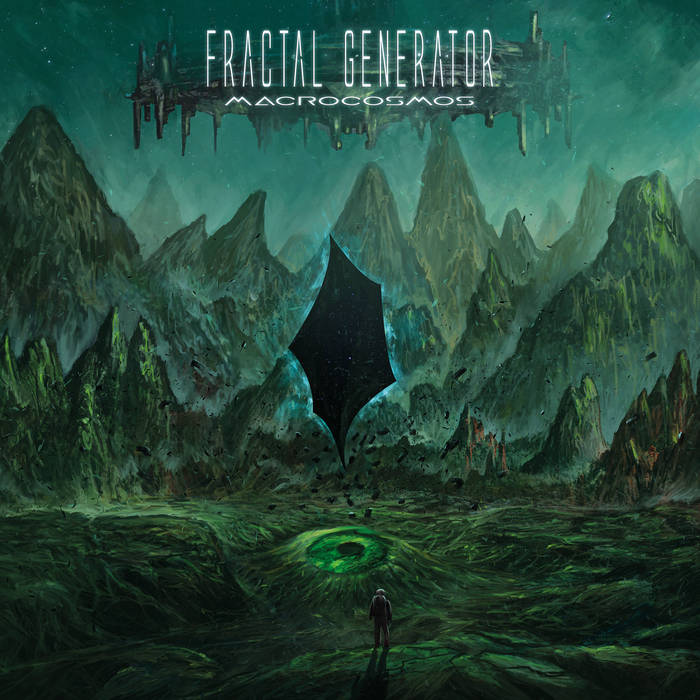 FIVE MORE THINGS YOU NEED TO KNOW:
ONE: Yearning for some whacky mathcore? Pupil Slicer (what?!) has that for ya.
TWO: I won't be writing about it every single time a new track comes out but you better be waiting for the new Emptiness. It's weird as all shit.
THREE: As most people reading this might already know I'm not the biggest prog head, and yet a new Subterranean Masquerade is cause for the raising of ones head and checking that shit out, especially with a new song already upon us.
FOUR: I miss my grandad. His death made me think that I have to do something great in life so that he would be remembered through me by association. I still miss him, but I think that may be a dumb idea. The only thing worth investing in the world is love, whether to people, to the things that make you happy, to whatever. That's the energy I'd like to pass on, not names. He was a good man, though, and ordered the weirdest pizzas.
FIVE: Magma signed to Prophecy which is a) WHAT?! and b) so, a new album?
ONE LAST THING PROMISE: 20 years of Low's Things We Lost in the Fire, one of the most beautiful, soul-wrenching, immaculate works of music ever.