NINE SONGS I LIKED THIS WEEK IN LIST FORM OCT 16 – OCT 21
A busy week here in Machine Music HQ, with two new interviews published: one with Danish dissonant death metal band Dysgnostic, that also included a premiere of a new single, and the other a new interview with Shaune Kelley of Ripping Corpse, part of my Pillars of the 90s series. So, I was pretty sure I would not have time for a recommendation post, but, somehow, here we are. Many thanks to all you wonderful Patreon people for helping make this shit happen. Stay safe.
As always, check out our various interview projects and other cool shit. And if you'd like to keep abreast of the latest, most pressing developments follow us wherever we may roam (Twitter, Facebook, Instagram, Spotify and now also a tape-per-day series on TIK TOK!), and listen to our shitty podcast (YouTube, Spotify, Apple), and to check out our amazing compilation albums. You can support our unholy work here (Patreon), if you feel like it. Early access to our bigger projects, weekly exclusive recommendations and playlists, and that wonderful feeling that you're encouraging a life-consuming habit.
1. Estrangement – "Disfigurementality," from Disfigurementality (Funeral Doom – Aesthetic Death Records). In all my real and imagined ignorance I have never heard of this Australian project, but after having spent way too much time with this track I think it's safe to say this is going to be one of my most anticipated doom releases of the year. Maybe it's the nostalgia of blasting Peaceville Three CDs in my discman, maybe it's the extravagant lead work, but this screams my name. Love it. FFO: My Dying Bride, Weeping Sores, Esoteric.
2. Larvae – "Acid Horror Cult," from Acid Horror Cult (Death Metal – Unholy Domain Records). Grossed-out, slow-drudging, slimy death metal that feels like puss and butter slipping on your tongue with some pretty tasty drumming in the background. Yes, and I'm not sure if I've successfully made this point already, it is pretty gross. But there's something about all these weird parts and how they come together that makes me want to puke with joy. FFO: Seep, Fluids, and just vomit in general.
3. Cryptae – "Pearl," from Capsule (Death Metal – Sentient Ruin Laboratories). This might take the "song of the week" prize that I just made up. I can't stop listening to this tracks. It's given me nightmares, it's give me daydreams. All I want to do is become one with everything that's going here: how crisp and full the drums sound, how horrible those vocals are, and the irreverent crunch of that nasty guitar. I want to be one with it. NOW. FFO: Aeviterne, SUMAC, Luminous Vault.
4. Empat​í​a – "Il Declino Della Mia Fragilità," from Split by Letterbombs / Empatía (Screamo – Khya Records). After being inundated with bewildering grossness and paralyzing alterity, it might be a good idea to cleanse your soul with some goold-ole-fashioned pain. This split is screamo perfection, and I have become not only an instant fan of both bands but of the wonderful Serbian label Khya that makes it possible for me to buy affordable tapes with affordable shipping. Also available via lluminate My Heart Records (USA), Callous Records (UK), Kaname Records (Chile), LeBlast Records (Canada), and Bilik Chaos Records (Malaysia). Beautiful. FFO: SKRAMZ.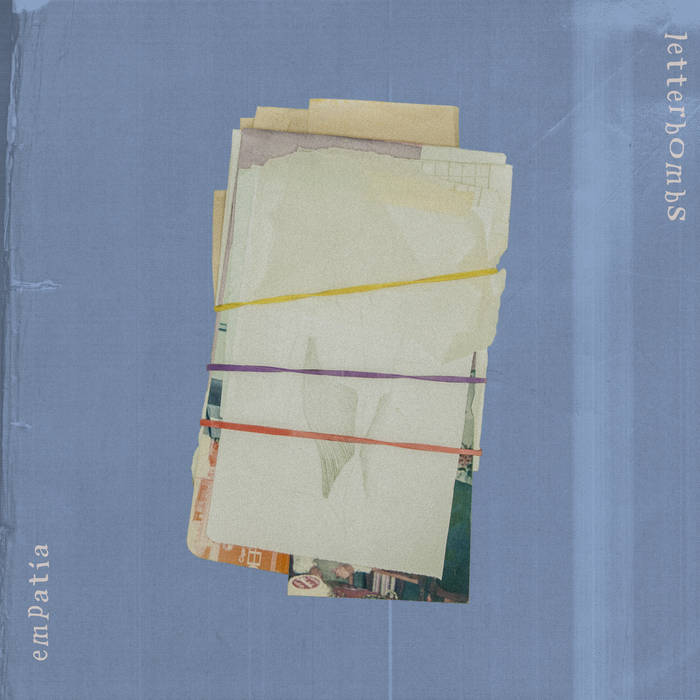 5. Vrenth – "Succumb to Chaos," from Succumb to Chaos (Death Metal – Rotted Life Records). Another band I didn't know, and another band kicking my ass. If I was a brave person I would say this is some of the finest death metal I've heard this year. You know what? It's some of the finest death metal I've heard this year. Straight-up OSDM that sounds just unbelievable and that is both well written and well performed. Fantastic. FFO: Vastum, Gutvoid, Sedimentum.
6. Sumac and Keiji Haino – "Into This Juvenile Apocalypse Our Golden Blood To Pour Let Us Never" from Into This Juvenile Apocalypse Our Golden Blood To Pour Let Us Never by (Experimental – Thrill Jockey Records). This one has been out for a while, actually. And I have been listening to it this whole time, actually. And yet I never wrote about it. Why? Because it has fused itself into my soul, and one cannot bring oneself to write about one's own soul. Every time Aaron Turner and the boys link up with Keiji Haino they return with disfigured, inhuman-and-yet-oh-so-human gold. It never gets old, never gets boring. This is humanity in musical form. FFO: Humanity in musical form.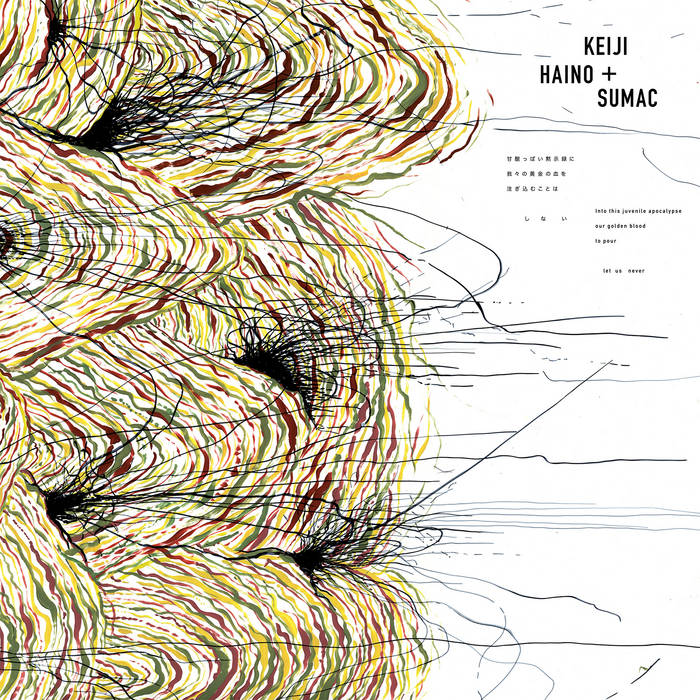 7. Eltun – "Funeral Ancestral," from A la Sombra del Pill​á​n (Black Metal – Independent). For some strange reason a very obscure, very raw Chilean black metal album has been one of my most-listened-to albums of the week. It's jarring, the drums sound like the EKG machine of someone who is obviously dying, and the guitars are distant and sloppy. And yet the whole thing is absolutely fascinating, and one of those rare occasions where bewilderingly raw black metal sounds just great. FFO: Sold-state amplifiers set ablaze. 
8. Full of Hell – "Blinding Erasure," from Aurora Leaking From An Open Wound (Experimental Noise Rock – Independent). I don't actually remember when was the last time I wrote about FoH on this weird site. Trumpeting Ecstasy was great, but somehow satiated my need for any new FoH, unless something different happened. And this here, a weirded-out, blackened reimagining of The Jesus Lizard, is where I get back on the bandwagon. Fantastic EP, way too short, and makes me very much excited for whatever comes next. FFO: portrayal of guilt, Uniform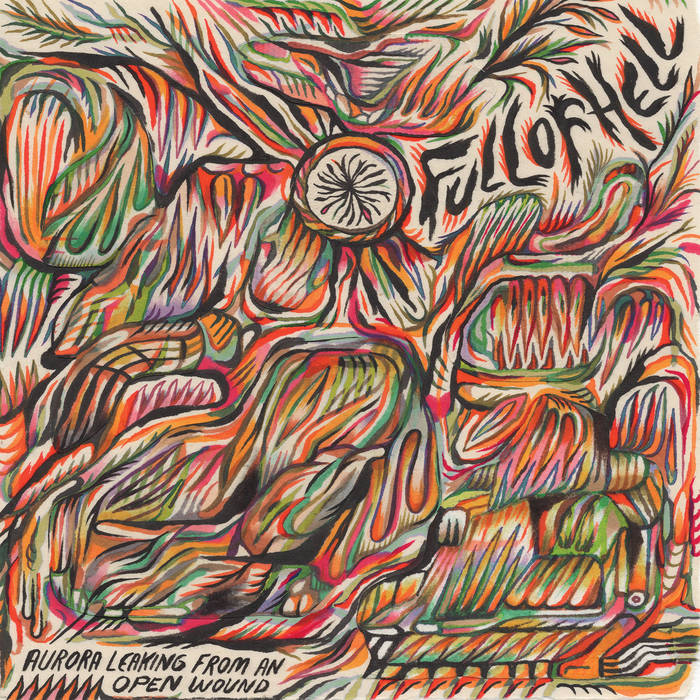 9. Drudkh – "Н​і​ч​н​и​й – The Nocturnal One," from All Belong to the Night (Black Metal – Season of Mist). Every band bending backwards to strike that person balance between emotion, aggressiveness, and atmosphere and then Drudkh just randomly releases an album and everyone else might as well pack up and go home. I don't mean that literally, of course, no one should be packing anything, ya'll rule. But Drudkh's consistency and excellence are really just ridiculous at this point. Masterful. FFO: Beautiful things.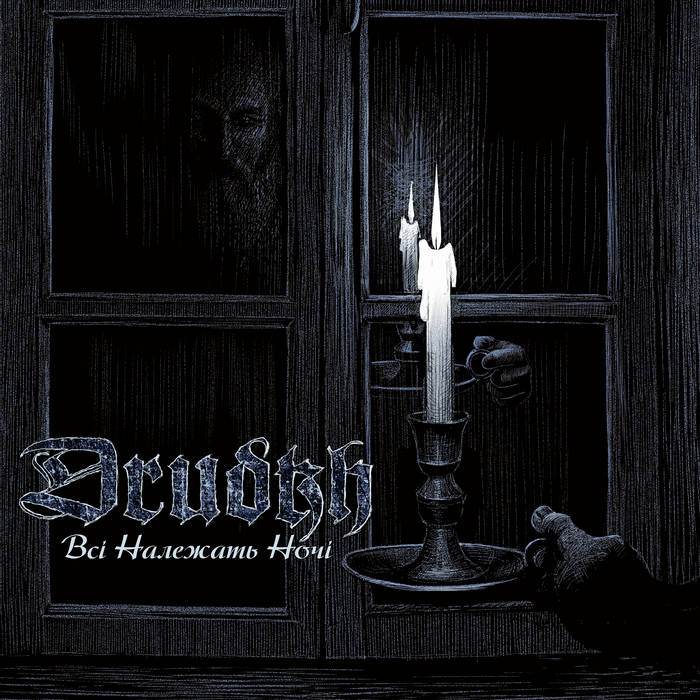 FIVE MORE THINGS YOU NEED TO KNOW
ONE: Enslaved released remastered version of their wonderfull demo, Yggdrasill.
TWO: WORMED, AKA the greatest living death metal band, announced they're recording a new album.
THREE: Happened upon this interesting melodic black metal album, released Lebanese project Ravers Throne in 2010. Pretty cool.
FOUR: 
FIVE: Botch are back playing live, all tickets sold in nine milli-seconds. Doesn't matter, won't get to see them anyhow.
ONE LAST THING, PROMISE: Whatever it is you're doing isn't as important as listening to the last three albums Maurice de Jong released as Hagetisse (one) and The Black Mysteries (two). Seriously.