NINE SONGS I LIKED THIS WEEK IN LIST FORM JAN 22 – JAN 28
Sick for the second week, which is a drag, and finally published the new interview with Phil of Chthe'ilist, part of the never-dead Albums of the Decade series. Which isn't a drag. In other news: the rising tide of existential dread that has to do with almost every aspect of life over here. You're thankful for times of relative calm, but when it feels like a storm is coming, it's like a pit in your stomach that just dominates everything, colors everything, and ruins everything.
Before the list, and as always, check out my various interview projects and other cool shit. And if you'd like to keep abreast of the latest, most pressing developments follow us wherever I may roam (Twitter, Facebook, Instagram, Spotify and now also a tape-per-day series on TIK TOK!), and listen to my, I guess, active (?) podcast (YouTube, Spotify, Apple), and to check out our amazing compilation albums. You can support our unholy work here (Patreon), if you feel like it. Early access to our bigger projects, weekly exclusive recommendations and playlists, and that wonderful feeling that you're encouraging a life-consuming habit.
1. Kuolevan Rukous – "Scherbenschmelze," from Demo 2023 (Black Metal / Doom – Independent). Yet another insane release from what has to be one of the best Januarys in recorded history. Massive-yet-nasty black metal, with a touch of atmospheric wizardry and a fantastic, ruthless sound. Full demo gets released in April for whatever weird reason, but this is already deep into my watch-for list of 2023. Amazing. FFO: Abstracter, Emptiness, Schammasch.
2. AGLO – "Into The Maze," from Into The Maze (Death Doom – Independent). I wrote about AGLO's fantastic debut last year, and also included it in my dumb list for that dumb year. What a dumb fucking year. So, a new album coming this soon, looking this great, and sounding this great is good news indeed. The first available track definitely plays and expands on the death/doom side to their rollicking death metal attack. And the results are amazing. Heavy, slow, pounding, stupendously recorded, and awesome. FFO: Obituary, Winter, Void Rot.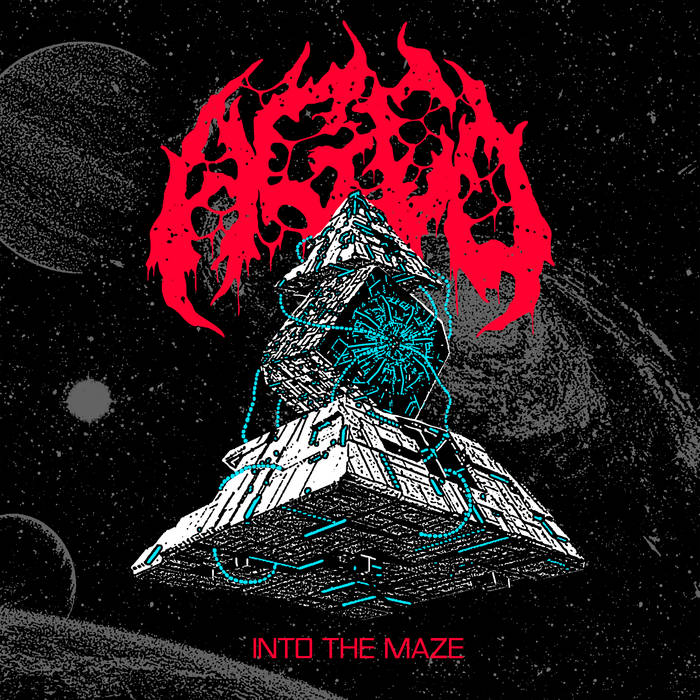 3. Arnaut Pavle – "Final Descent," from Transylvanian Glare (Black Metal/Punk – Amor Fati Productions). These Finnish master of manic, cutting black metal dropped a surprise, and very welcome follow up to 2019's awesome self-titled debut. And boy oh boy is it tremendous. Pretty sure this is the best "black metal" black metal release thus far this year. It has the (expected) energy, the (expected) ruthlessness, and it just sounds free-wheelin', organic and fierce. Weird, cruel, and beautiful. I really love where Darkthrone sounds these past few years, but wouldn't it be awesome if they sounded like this? FFO: Negative Plane, Feral Light, Esoctrillihum.
4. Choir – "Drawn to an Early Grave," from Songs For a Tarnished World (Dissonant Black/Death Metal – Total Dissonance Worship). Another project I've been following as best I can. I wrote about their AMAZING full-length debut in 2021, and news of a new album of this chaotic shit has gotten my feeling almost un-sick. Suffocating atmosphere, weird, disjoined notes buzzing around like mercenary bees, and some massive, ugly grooves. Psyched. FFO: Altarage, Oranssi Pazuzu, Ulcerate.
5. Mind Prisoner – "2:22," from Mind Prisoner (Death/Black – Isolation Club). I wrote about the lovely black metal surprise that is Color of Ruin a few weeks back. Now we have yet another fractal out of the wonderful brain that brought all that nasty beauty to our lives, this time in the form of expansive, atmospheric blackened death metal. If you love your depressive shrieks of absolute, nullifying pain to be surrounded by swelling, overwhelming chaos, then, ah, cool. And this is very much for you. FFO: Lord Mantis, Cobalt, The Ruins of Beverast.
6. Faithxtractor – "Revenge Void Asphyxia," from Contempt for a Failed Dimension (Death Metal – Redefining Darkness Records). I would not have even known to check this our if it wasn't for the great Justin Extreme, lord of all Twitter and (apparently) YouTube. But I'm happy I did. Basically merciless death metal that delivers all the twists, turns, and, ah, more twists and turns that most new-wave stuff lacks. 900 riffs per minutes. Love it. FFO: Death, Nothingness, Xoth.
7. Anatomy of Habit – "Breathing Through Bones," from Black Openings (Post-Punk/Doom – Independent). Chicago legends Anatomy of Habit were laying low for a good stretch there during the latter part of the 2010s. Which was fine, I guess. we all have lives and priorities, and as long as we had their classic debut and Mark Solotroff on-and-off participation in Wrekmeister Harmonies, then I was OK. But I'm even more OK with their sudden, violent, and wonderful return to life. First with their incredible and criminally underrated Even if it Takes a Lifetime, and now with yet another album, due to come out next month. Listen to "Breathing Through Bones" and realize immediately what's the difference between writing horribly boring, slow paced music and the kind of slow-burners that AoH just churn out at seeming will, that make you feel like you're flying. Flying, I tell you. FFO: FLYING.
8. Dryad – "The Abyssal Plain," from The Abyssal Plain (Everything Metal – Prosthetic Records). What do you call the album that seemingly has everything? Not "everything" as in "having elements of everything," but an album that is, in some strange way, "everything"? It has a punk, almost hardcore attitude, a black metal aesthetic, doom metal atmospheres, death metal progressions, and, yes, basically "everything." Now now I get why all these good people have been posting this album. This is some Ulthar-level insanity. FFO: Skeleton, Ulthar, Trimuvir Foul.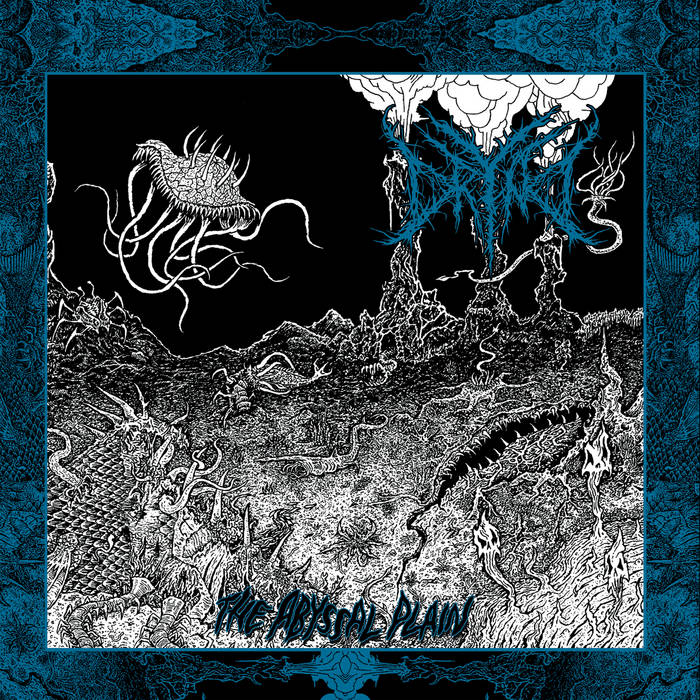 9. Nephilim's Noose – "Cloaked in Chain // The Sanguinary Altar," from Blood Chants of Impiety (Death Doom – Independent). I shall be ending this "Ron talking about bands he claims he's been following" post with another band I claim to be following. This time it's the fantastic Nephilim's Noose, of which I wrote in one of the first of these "Nine Songs" posts back in late 2019, and again when they put out that great split with Immortal Force last year. So much atmosphere, so many lovely clean bass passages, and just an overrunning of heaviness and doomy dynamics. Love the new logo too. FFO: Being sad at the deserted temple.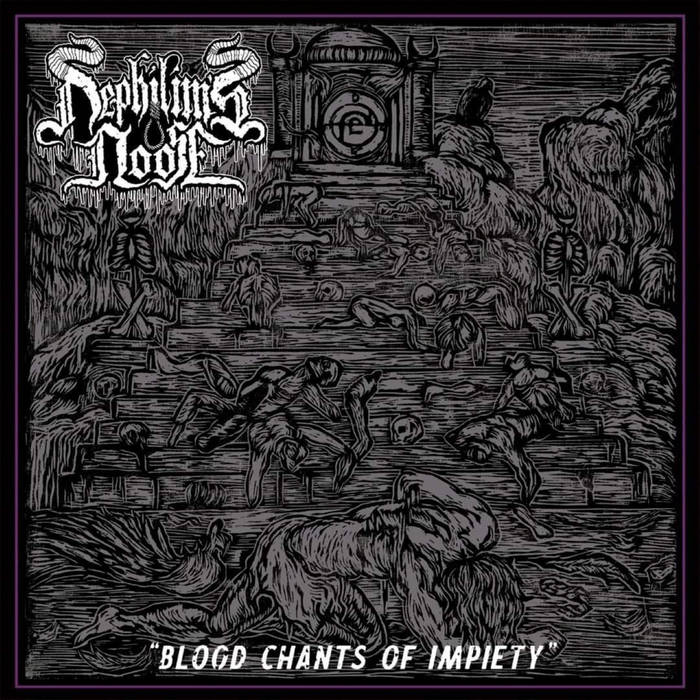 FIVE MORE THINGS YOU NEED TO KNOW
ONE: Swarrrm, AKA of the best bands ever, is reissuing / posting online both amazing releases 偽救世主共 and Against Again.
TWO: Black metal gods Scáth Na Déithe announced a new album. In case you missed their incredible catalogue so far.
THREE: There's a pretty fantastic-looking 30th anniversary reissue of Drawing Down the Moon by NWN. North America only, for now. Also a good time to revisit my very pleasant interview with the band about that masterpiece.
FOUR: I had some negative shit to say, mostly prompted by anxiety and by being sick of being sick. But the people reading this blog and supporting it in any way rule. I get to be me. That's pretty awesome.
FIVE: The amazing Agriculture are now on The Flenser! Match made in sad-person heaven.
ONE LAST THING, PROMISE: Cult of Luna released a great-looking reissue of Vertikal, one of my absolute favorite albums ever, and the subject of this pretty cool interview.
BONUS: The Mutilation Rites page on Archives says they split up? Was this made official at some point? Did I miss something? Did I forget that I already knew? Sucks regardless.